PureSpelt baguettes
for 3 baguettes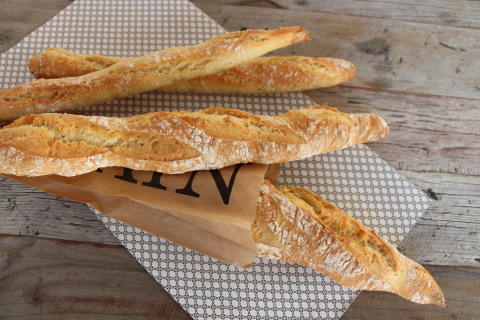 Baking paper for the baking tray
500 g of PureSpelt white flour
1 1/2 teaspoons of salt
1 pinch of ascorbic acid
10 g of yeast, crumbled
Approx. 3.25 dl of water

PureSpelt white flour for rolling out
1
Mix together the flour, salt and ascorbic acid. Add the yeast and water and then very briefy knead to form a soft, smooth dough. Cover and leave for 1 to 2 hours to rise to twice the original volume. Punch down the dough and allow to rise further. Then punch down the dough again and place in the refrigerator overnight.
2
Remove the dough from the refrigerator, cut into 3 equal pieces and carefully press each piece until it is flat and then gently roll out to form an elongated loaf. Place the loaves on a flour-sprinkled kitchen towel, dust with flour, cover and leave to rise for 30-40 minutes.
3
Carefully flatten each of the three pieces of dough to form a rectangle, being careful to avoid breaking the air bubbles. Roll out each piece of dough along its length and form each piece into a long baguette shape, finally pressing the edges of the dough together. With this side underneath, lay the baguette shaped rolls on baking paper. Cover the shaped dough and allow to rise for a further 20-30 minutes.
Baking
Preheat the oven to 230-250°C, leaving two baking trays in the oven to also preheat. Using a sharp knife, make a slit along the length of each of the baguette forms, lay them on the baking paper on the upper preheated baking tray and then immediately slide it into the oven. Pour 1 to 2 dl of boiling water onto the lower pre-heated baking tray and immediately close the oven door. Bake the baguettes for 20-25 minutes at a high temperature. If necessary reduce the temperature after 15 minutes. Remove the baguettes from the oven and allow to cool on a grid. Eat while still fresh.
Suggestions
Instead of pouring boiling water onto the lower baking tray, put a number of ice cubes on the lower baking tray. This generates a constant supply of steam. Bake the bread in a combination oven using the interval baking function. This generates an alternation between steam and dry heat. Ascorbic acid can be purchased either in large retailer outlets or in specialist drug stores. It provides the dough with stability.
Source:
IG Dinkel, Judith Gmür-Stalder