PureSpelt spoon-shaped rolls
for approx. 15 rolls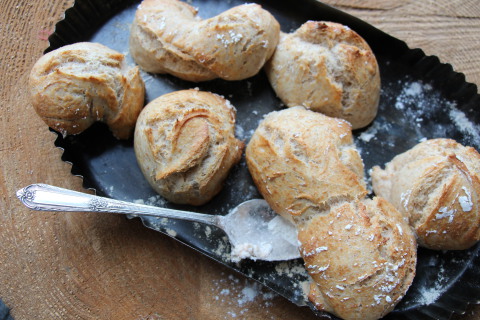 Baking paper to line the baking tray
Yeast dough
350 g of PureSpelt white flour
150 g of PureSpelt wholemeal flour
1½ teaspoons of salt
1 pinch of acererola powder or 1 teaspoon of lemon juice
10 g of yeast, crumbled
Approx. 3.5 dl of water
PureSpelt flour for forming the rolls
1
Mix together the flour, salt and acerola powder. Add the yeast and the water and briefly knead to form a very soft dough. Cover and leave to rise overnight in a cool place.
2
Sprinkle the dough with flour and using a table spoon, spoon out portions of the dough and lay them on the lined baking tray.
Baking
Preheat the oven to between 230 and 250°C. Place the baking tray in the middle of the pre-heated oven. Bake for 15-20 minutes, if necessary reduce the temperature after 5-10 minutes. Remove from the oven and allow the rolls to cool on a grid. Eat while still fresh.
Suggestions
Acerola powder is prepared from acerola cherries. It can be purchased in drugstores or health food shops. The acid provides the dough with more stability and rising power.
Source:
IG Dinkel, Judith Gmür-Stalder