PureSpelt grass Moringa crackers
for approx. 80 crackers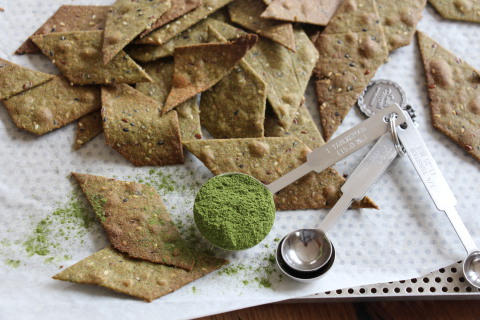 250 g of PureSpelt wholemeal flour
2 tablespoons of PureSpelt grass or Moringa powder
1 tablespoon each of sesame, linseed or Chia seeds
1 ½ teaspoons of salt
10 g of yeast, crumbled
1 tablespoon of Agave syrup or liquid honey
3 tablespoons of rape or olive oil, approx. 25 g
Approx. 1 dl of water
1
Mix together flour, PureSpelt grass powder or Moringa powder, the various seeds and the salt. Add the crumbled yeast, the Agave syrup or liquid honey, the oil and the water and knead to form a dough. Cover the bowl and leave to rise for 1-2 hours.
2
roll out the dough in portions between two sheets of baking paper to form a square as thin as possible (approx. 2 mm thick). Using a dough cutting wheel cut, cut the dough into suitable pieces and prick each piece several times with a fork before laying on a baking tray lined with baking paper.
Baking
Place the PureSpelt grass crackers in the middle of an oven preheated to 180°C for 8-10 minutes until they light brown in colour. Turn off the oven, slightly open the oven door and leave the crackers to dry and cool in the oven. Store the crackers in a cool dry place.
Suggestions
Serve the crackers with butter, almond butter, fresh cream cheese, vegetable puree, roasted vegetables, etc. according to personal taste. Use form cutters to make crackers of any shape before baking.
Source:
IG Dinkel, Judith Gmür-Stalder