PureSpelt bread bunnies
Preliminary time: Overnight and 2-3 hours to allow the dough to rise
Preparation time: approx. 45 minutes
Baking or cooking time: approx. 25 minutes
For approx. 10 bunnies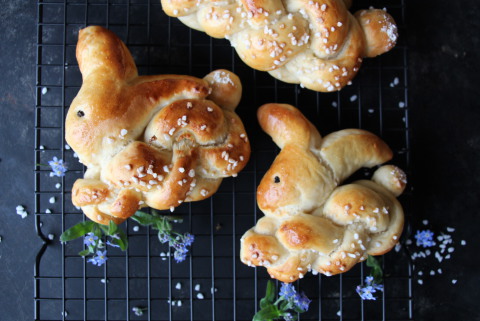 Bran mash
1.7 dl of water
130 g PureSpelt half-white or white flour
Dough
500 g of PureSpelt half-white or white flour
1 1/2 teaspoons of salt
20 g of yeast, crumbled
Approx. 2.75 dl of milk
50 g of butter, cut into pieces
Decoration
1 egg yolk mixed with 1 tablespoon of milk
Coarse granulated sugar for sprinkling
Peppercorns for the eyes
1
To prepare the bran mash, bring the water to the boil and while it is still boiling add it to the flour while stirring constantly. Continue stirring until the mixture is compact and smooth. Allow the bran mash to cool, cover the bowl and leave to stand in the refrigerator overnight.
2
To prepare the dough, mix together the flour and the salt, make a trough in the flour. Mix the yeast with the milk, add the bran mash by pinching off pieces. Add the butter and briefly knead the mixture to form a moist, smooth dough. Cover the dough and leave to stand at room temperature until it has doubled in volume. During this period punch down the dough several times.
3
Cut the risen dough into 30 equal pieces. Take 20 of these pieces and roll each piece out until it is 20-25 cm in length. Take these rolls in pairs and plait them together. Line a baking tray with baking paper and lay the plaits on the tray leaving sufficient space between them. Use the remaining ten pieces of dough to form heads, cut out the ears and use some of the dough to form balls for the tails. Position the heads and tails on the plaits on the baking tray, brush with egg, sprinkle with granulated sugar according to taste and using a peppercorn make the impressions for the eyes. Allow to rise for a short time.
Baking
Place the baking tray with the Easter bunnies in the middle of an oven preheated to 200 °C and bake for 20-25 minutes. Remove the baking tray and allow the bunnies to cool on a grid.
Source:
IG Dinkel, Judith Gmür-Stalder