PureSpelt cruffins
Preliminary time: Leave to rise overnight and for 3-4 hours
Preparation time: approx. 45 minutes
Baking or cooking time: approx. 20 minutes
For 12 cruffins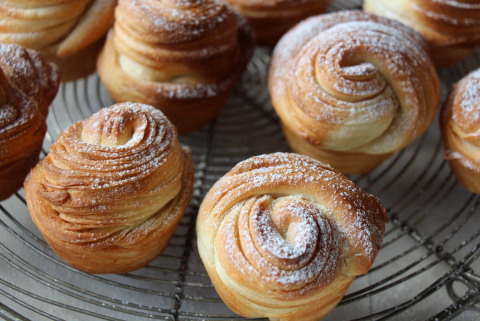 Dough
450 g of PureSpelt white flour
1/2 teaspoon of salt
3 tablespoons of sugar
15 g of yeast, crumbled
Approx. 2 dl of milk-water or plain water
75 g of butter, cut into cubes
Filling
180 g of butter, soft

Icing sugar for dusting
1
Dough: Mix together the flour, salt and sugar. Add the crumbled yeast, milk-water or pure water and butter and then knead until it is a soft, smooth dough. Cover and leave to rise for 2-3 hours at room temperature, punching the dough down several times during this time. Subsequently cover the dough and place in a refrigerator to rise overnight.
2
Cut the cold risen dough into 6 equal pieces and roll out each piece to a very thin rectangle of approx. 12 x 50 cm; this can be done most easily using a pasta machine. Spread each rectangle of dough thinly with 30 grams of soft butter; this can best be done using the fingers or a spatula. Then roll up each rectangle of dough from the short side. Cut each roll along its length to form two halves and then knot all of the halves to form cruffins. Lay each cruffin in one of the buttered muffin molds in the baking tray, cover and leave to rise for a further 60-90 minutes.
Baking
Bake the cruffins for 18-22 minutes in the middle of an oven preheated to 200°C. Remove the tray from the oven, place the cruffins on a grid to cool. Dust with icing sugar and serve either while still lukewarm or after they have cooled completely.
Suggestions
Spread the lukewarm cruffins with chocolate or fill with jam or fruit compot according to taste and simply enjoy.
Before rolling up the dough rectangles, spread them with berries, softened dried fruits or date spread and then bake the cruffins.
Source:
IG Dinkel, Judith Gmür-Stalder