PureSpelt melon focaccia
Preliminary time: allow to rise for approx. 2 hours
Preparation time: approx. 50 minutes
Baking or cooking time: approx. 20 minutes
For approx. 30 canapés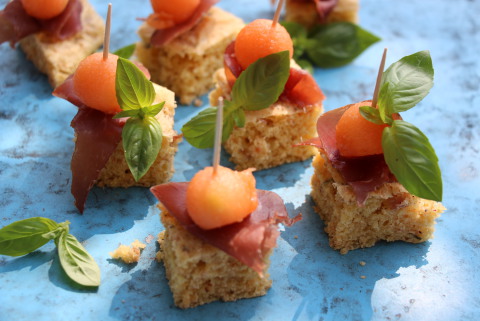 Dough
300 g of PureSpelt half-white or white flour
3/4 teaspoon of salt
50 g of Grison dried meat or cured ham, diced
2 tablespoons of basil leaves, finely chopped
10 g of yeast, crumbled
Approx. 1.25 dl of water
2 tablespoons of cream
75 g of melon, peeled, deseeded, diced
Garnishing
1 melon, e.g. a cavaillon melon, cut in half with seeds removed, balls scooped out using a melon baller
Approx. 100 g of Grison dried meat or slices of cured ham cut in half
Basil leaves
A little pepper according to taste
1
Mix together the flour, salt, the diced Grison dried meat and finely chopped Basil leaves. Add the yeast, water and cream and briefly knead to form a smooth dough. Very briefly knead in the melon. Cover and allow to stand until it has risen to twice its original volume; punch down the dough several times during this period.
2
On a lightly floured surface, form the dough into a round loaf shape with a diameter of approx. 25 cm. Place the loaf on a baking tray lined with baking paper and leave to rise for a further 20 minutes.
Baking
Place the focaccia loaf in the lower half of an oven preheated to 220°C and bake for 15-20 minutes. Remove the tray from the oven and leave the loaf to cool.
3
Cut the focaccia loaf into cubes and garnish each cube with a slice of Grison dried meat or cured ham, a melon ball and basil leaves. Sprinkle with pepper according to taste.
Source:
IG Dinkel, Judith Gmür-Stalder