PureSpelt roasted vegetable sandwich
Preliminary time: 30 minutes
Preparation time: approx. 15 minutes
Baking or cooking time: approx. 15 minutes
To serve 4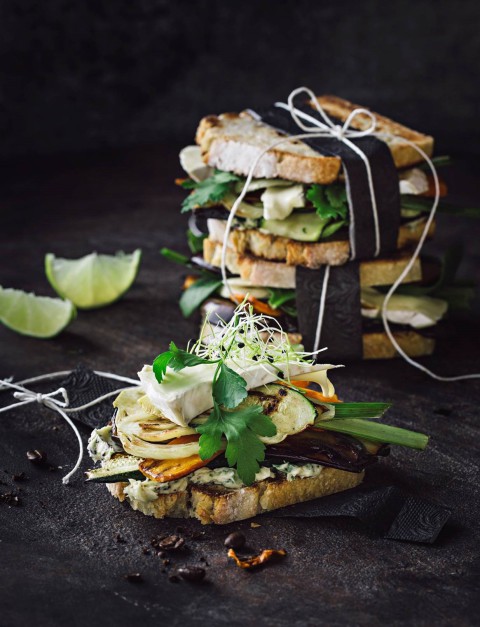 Coffee and herb-flavored butter
100 g of butter, soft
1-2 tablespoons of coffee beans
1 teaspoon of rosemary, finely chopped
1 tablespoon of smooth leaved parsley, finely chopped
1 clove of garlic, pressed
Sea salt
Pepper
A few drops of lemon juice
Roasted vegetables
600 g of mixed vegetables, e.g. aubergines, zucchinis, fennel and carrots, cleaned and cut into slices lengthwise
Olive oil
A little sugar
Salt, pepper
1/2 bio lime, grated peel and a few drops of lime juice
Sandwich
8 slices of PureSpelt bread
A small amount of flat-leaf parsley
1 handful of leaf spinach
1 camembert cheese, cut into slices
1/2 bio lime, cut into wedges
Calçot onion sprouts
Coffee herb-flavored butter
Beat the butter until peaks are formed. Crush the coffee beans on a cutting board using a saucepan, stir in the crushed coffee beans together with the remainder of the ingredients into the butter. Transfer the coffee herb-flavored butter into a suitable container and leave to steep until the sandwiches are ready to be made.
Roasted vegetables
Mix the prepared vegetables together with the olive oil, sugar, salt and pepper, spread the vegetables on a baking tray and place under an oven grill pre-heated to 230°C until the vegetables are soft and brown, turning the vegetables several times during the roasting. Remove the vegetables from the oven grill and lightly season with lime zest and lime juice. Or stir-fry the vegetables in a frying pan.
Sandwich
Lightly toast the slices of bread either under the oven grill or using an electric toaster and lay the bread slices on plates. Spread the bread slices with coffee herb-flavored butter. Arrange the roasted vegetables, parsley, spinach leaves and camembert cheese slices on four slices of bread. Lay on the second slice of toast and bind each sandwich together using a serviette and a suitable cord. Serve together with the lime wedges for drizzling.
Source:
IG Dinkel, Judith Gmür-Stalder, Photo: Anna Schramek-Schneider