PureSpelt aperitif cake
Preliminary time: approx. 4 hours
Preparation time: approx. 50 minutes
Baking or cooking time: approx. 25 minutes
For 1 flan baking dish 24 cm in diameter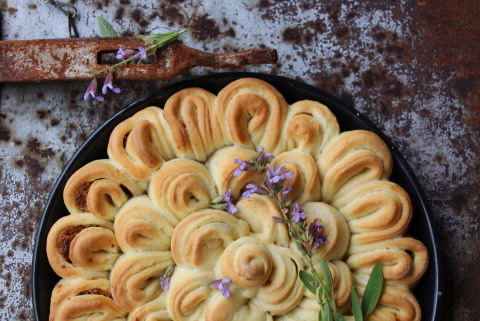 Yeast dough
450 g of PureSpelt half-white or white flour
1 1/2 teaspoons of salt
75 g of butter, cut into pieces
Approx. 2.25 dl milk
15 g of yeast, crumbled
1 egg
Butter for greasing the baking dish
Filling
100 g of ricotta cheese
60 g of gruyère grated cheese
100 g of peeled, ground almonds
1 clove of garlic, pressed
40 g of dried tomatoes, finely chopped
A little sage, finely chopped
2 tablespoons of parsley, finely chopped
Pepper from the mill
Sage for garnishing
Yeast dough
Mix together the flour and salt, add the remaining ingredients and briefly knead to form a yeast dough. Cover the dough and allow it to rise for 2-3 hours, punching down the dough several times during this time. Subsequently cover and place in the fridge for 1-2 hours.
Filling
Stir together all of the ingredients.
Shaping
Roll out the dough on a lightly floured surface to a thickness of 3 mm. Cut out approx. 34 circles each of approx. 9 cm in diameter. Place 1 teaspoon of the filling on each circle of dough, fold over the circles and form into a flower shape before placing them on the buttered baking dish. Cover and leave to rise for 15-20 minutes.
Baking
Bake the cake for 20-25 minutes in the lower half of an oven pre-heated to 190°C. Serve while still luke warm or after cooling.
Source:
IG Dinkel, Judith Gmür-Stalder