PureSpelt Italian ciabatta olive loaf
Preliminary time: approx. 24 hours to rise
Preparation time: approx. 30 minutes
Baking or cooking time: approx. 25 minutes
For 2 loaves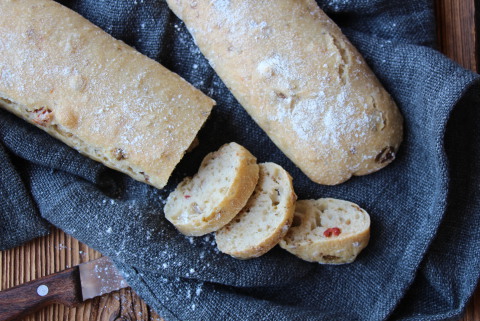 Pre-ferment
200 g of PureSpelt half-white or white flour
1 g of yeast
1.25 dl of cold water
Dough
250 g of PureSpelt half-white or white flour
50 g of PureSpelt semolina or fine semolina
1 teaspoon of salt
1 teaspoon of mixed herbs, e.g. provençale
10 g of yeast, crumbled
1.75 to 2 dl of cold water
2 tablespoons of olive oil
100 g of olives stuffed with dried tomatoes, chopped
PureSpelt flour and semolina or fine semolina for forming the dough
1 Pre-ferment
Pour the flour into a mixing bowl and form a trough in the center. Mix the yeast with the water and stir it together with some of the flour in the center of the trough to form a thick fluid dough. Sprinkle the pre-firment with some of the remaining surrounding flour, cover the mixing bowl and place in a refrigerator or a cool place to rise for 12-18 hours.
2 Dough
Briefly knead together the flour, semolina, salt, mixed herbs, yeast, water, olive oil and pre-ferment to form a dough. Briefly knead in the chopped olives and tomatoes. Cover and leave overnight in a refrigerator or a cool place.
3
Remove the dough from the refrigerator or the cool place and leave for 2-3 hours until it reaches normal room temperature.
4
Place the the dough on a working surface sprinkled with flour or semolina, cut in half and carefully, so as to remove as few air bubbles as possible, shape into two long loaves. Lay the two loaves on baking paper, allow to rise for around 30 minutes and slice the surface as desired.
5
Baking: Pre-heat the baking tray and the oven to between 230°C and 250°C. Take the baking tray from the oven and slide the baking paper with the loaves onto the tray. Immediately slide the baking tray into the middle of the hot oven and bake with interval baking for five to ten minutes. Or bake with top and bottom heating and spray the inside of the oven using a water spray at regular intervals to ensure that sufficient steam is available in the oven at the beginning to allow the dough to rise. Subsequently reduce the temperature to 190°C and finish baking the bread for 15-20 minutes. Subsequently remove the Ciabatta loaves from the oven and allow to cool on a grid.
Source:
IG Dinkel, Judith Gmür-Stalder