Rustic PureSpelt Zopf with scalded grain (Brühstück)
for 2 loaves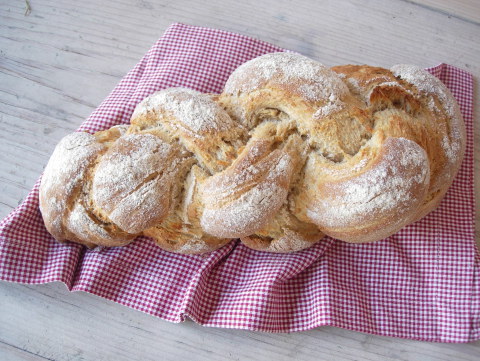 Scalded Grain (Brühstück)
260 g water
200 g PureSpelt flour with 20% grist (Schrot)
Dough
800 g PureSpelt flour with 20% grist
3 tsp salt
42 g yeast, crumbled
1 tbsp honey
Approx. 450 ml milk
80 g butter, cut into pieces

A little PureSpelt flour with 20% grist for rolling out and sprinkling
1
Scalded Grain: Boil the water, then pour the boiling water into the flour while stirring constantly; continue to stir until the mixture is smooth and compact. Allow the mixture to cool, cover, and place in the refrigerator over night.
2
Dough: Mix the flour and the salt, form a hollow. Mix the yeast with the honey and milk and pour into the hollow. Add the butter and scalded grain. Briefly knead into a wet, smooth dough. Cover and let rise at room temperature for 1-2 hours until it has doubled in size.
3
Punch down the risen dough. Leave the dough to rise for a further 20-30 minutes.
4
Divide the dough into four. Using a little flour, form rolls between 50-60 cm in length. Plait two two-strand loaves. Place on the tray lined with baking paper. Brush with the whisked egg.
Baking
Place the tray in the lower half of an oven pre-heated to 230°C. Reduce the temperature to 200°C, bake the braided loaves for 40-45 minutes. Remove and place on a cooling rack.
Information
Adding scalded grain (Brühstück) to a PureSpelt bread helps the dough retain its form much better, and helps the bread stay fresh and moist for longer.
Source:
IG Dinkel, Judith Gmür-Stalder