PureSpelt bagels
for 10 bagels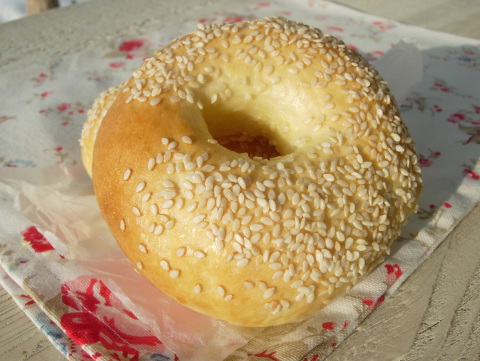 Yeast dough
350 g of PureSpelt white flour
150 g of PureSpelt wholemeal flour
1 ½ teaspoons of salt
50 g of butter
Approx. 2.5 dl of water
20 g of yeast, crumbled
1 teaspoon of honey
1 teaspoon of lemon juice

Approx. 2 litres of water
1 egg yolk, whisked
Poppy seeds, sesame seeds or linseeds for decoration
Filling according to taste
Ham, smoked salmon, onion rings, crème fraiche, horseradish mousse, herbs, salad, tomatoes, cucumber etc.
1
Mix together the flour and the salt. Melt the butter in a pan. Pour in the water and dissolve the yeast and the honey in the liquid. Add the liquid and the lemon juice to the flour and briefly knead to a smooth dough. Cover and leave to rise to twice its volume.
2
Punch down the dough and again briefly allow to rise.
3
Cut the dough into 10 equal pieces and form each piece into a ball. Use the handle of a wooden spoon to make a hole in the middle of the ball and then by turning the dough, form rings of 10-12 cm diameter. Cover the rings and leave to rise for another 15 minutes.
4
Boil the water and briefly submerge the rings in portions into the hot water. Remove from the water and place the rings on a baking paper lined baking tray. Brush the bagels with the whisked egg yolk and sprinkle with poppy seeds, sesame seeds or linseeds.
Baking
Bake the bagels for 15-20 minutes in the middle of an oven pre-heated to 200°C. Remove from the oven and allow to cool on a grid. Cut the bagels crosswise and fill with the filling of your choice.
Tip
Fill the freshly baked bagels and eat immediately.
Source:
IG Dinkel, Judith Gmür-Stalder