PureSpelt Christmas wreath with diced bacon and cranberries
Preliminary time: approx. 18 hours
Preparation time: approx. 45 minutes
Baking or cooking time: approx. 25 minutes
1 wreath with approx 22 small star-shaped rolls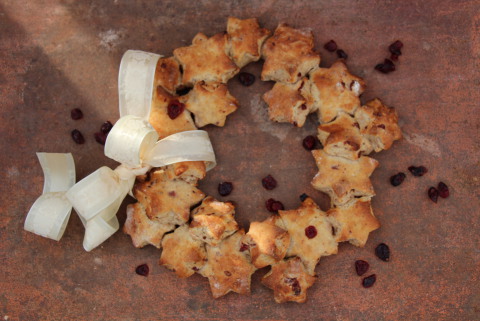 Predough
1.7 dl of water
130 g of PureSpelt half-white or white flour
Dough
500 g of PureSpelt half-white flour with 20% whole grain
1 1/2 teaspoons of salt
15 g of yeast, crumbled
100 g of diced bacon, small cubes
50 g of cranberries, chopped
Approx. 2.75 dl of milk
50 g of butter, cut into pieces
1
Predough: Bring the water to the boil and while still boiling stir the water into the flour, continuing to stir until the mixture is compact and smooth. Allow the predough to cool, cover the bowl and place in the refrigerator overnight.
2
Dough: Mix together the salt and the flour, form a depression in the flour. Add the crumbled yeast, diced bacon, cranberries, milk and the pieces plucked from the predough and briefly knead all the ingredients to form a wet, smooth dough. Cover the mixing bowl and place in the refrigerator for 4 to 6 hours until it has risen to twice the original volume. Punch down the dough several times during this period.
3
Forming: Roll out the dough on a lightly floured surface until it is approximately 1 cm thick. Cut out the stars and lay them on the baking tray lined with baking paper to form a wreath. Allow to rise again for 5-10 minutes.
4
Preheat the oven to 200°C.
5
Bake the Christmas wreath in middle of the preheated oven for 20-25 minutes. Remove the baking tray from the oven, allow the wreath to cool, decorate the wreath using a looped band or as desired and serve either lukewarm or cold.
Source:
IG Dinkel, Judith Gmür-Stalder