PureSpelt crowns
Preliminary time: approx. 1 1/2 days
Preparation time: approx. 50 minutes
Baking or cooking time: approx. 25 minutes
For 12-15 crowns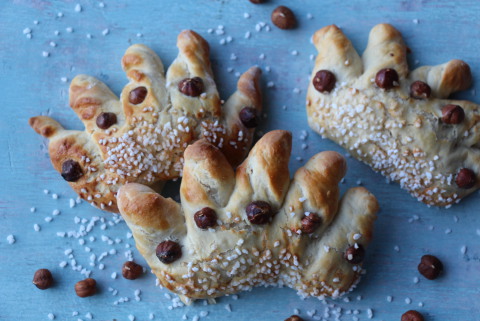 Predough
1.7 dl of water
130 g of PureSpelt half-white or white flour
Dough
500 g of PureSpelt half-white or white flour
1 1/2 teaspoons of salt
50 g of sugar
20 g of yeast, crumbled
Approx. 2 3/4 dl of milk
50 g of butter, cut into pieces
Decoration
1 egg, beaten
Hazelnuts
Crystal sugar
1
Predough: Bring the water to the boil and while it is still boiling stir the water into the flour, continuing to stir until the mixture is compact and smooth. Allow the predough to cool, cover the bowl and place in the refrigerator overnight.
2
Dough: Mix together the salt, sugar and flour, form a depression in the flour. Add the crumbled yeast, milk, butter and the pieces plucked from the predough and briefly knead all the ingredients to form a wet, smooth dough. Cover the mixing bowl and leave to rise at room temperature for 2 to 3 hours until it has risen to twice the original volume. Punch down the dough several times during this period.
3
Preheat the oven to 230°C.
4
Forming the dough: Cut the dough into 12-15 equally sized pieces and form each piece into a long bread roll. Press the dough rolls to flatten them slightly and make 4 or 5 cuts on one side, ensuring that the other side of the dough remains intact. Lay the dough bread rolls on a baking tray lined with baking paper. Twist each of the cut pieces to form crown tips. Leave to rise for a further 10-15 m. Brush the crowns with the beaten egg and decorate using hazelnuts and crystal sugar.
5
Baking: Reduce the oven temperature to 190°C. Slide the baking tray into the middle of the oven and bake the crowns for 20-25 minutes. Remove the baking tray from the oven and allow the crowns to cool on a grid.
Source:
IG Dinkel, Judith Gmür-Stalder