PureSpelt pops wholemeal loaf
Preliminary time: approx. 3 hours
Preparation time: approx. 30 minutes
Baking or cooking time: approx. 40 minutes
For 2 loaves, 2 baking tins each approx. 11 x 18 cm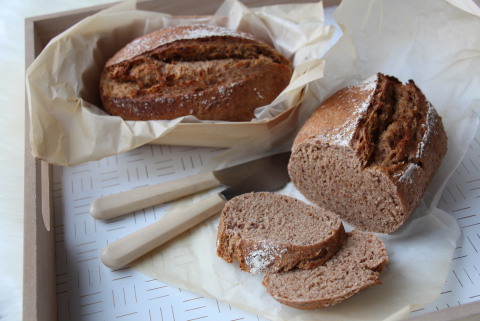 Grain mash
70 g of PureSpelt pops, unflavored
1 dl of water
Dough
450 g PureSpelt wholemeal flour
1 1/2 teaspoons of salt
15 g of yeast, crumbled
Approx. 2.5 dl of water
1
To prepare the grain mash, put the original PureSpelt pops into a mixing bowl. Bring the water to the boil, pour boiling hot water over the pops, stir briefly and place covered in the fridge overnight.
2
For the dough, mix together the flour and salt in a bowl, form a trough. Add the crumbled yeast, water and PureSpelt pops and knead briefly to form a smooth dough. Cover and allow to rise for 2-3 hours. Druing this time punch down the dough several times.
3
Cut the dough in half, form each half into longish loaf shape and place each piece of dough into a baking tin lined with baking paper. Cover the tins and leave to rise again for 20-30 minutes. Then sprinkle with a little flour and make a cut lengthwise across the top of the loaf.
Baking
Slide the loaves into the middle of an oven preheated to 230°C. Reduce the oven temperature to 190°C and bake the bread for 35-40 minutes. Remove from the oven and allow to cool on a grid.
UrDinkel-Pops (UrDinkel-Nüssli) gibt es im
Online-Shop
.
Source:
IG Dinkel, Judith Gmür-Stalder, Richemont Kompetenzzentrum Luzern