PureSpellt sauerkraut bacon rolls
Preliminary time: Allow to rise for 2 to 3 hours
Preparation time: aprox. 45 minutes
Baking or cooking time: approx. 25 minutes
For 8 rolls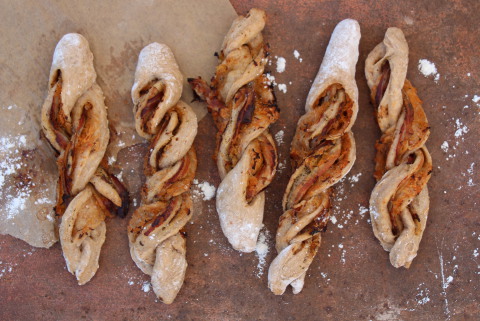 Yeast dough
500 g of PureSpelt semi-white flour with 20% coarse meal
1 1/2 teaspoons of salt
15 g of yeast, crumbled
Approx. 3 dl of water
3 tablespoons of rapeseed oil or olive oil
Filling
150 g of sauerkraut (pickled cabbage), well drained
1 onion, finely chopped
Pepper from the mill
1 teaspoon of paprika
100 g of raw bacon cut into thin strips
1
To prepare the dough, mix together the flour and the salt and form a trough in the mixture. Add the yeast, water and oil and briefly knead to form a soft dough. Cover with a kitchen towel and leave to rise for 2-3 houirs at room temperature, punching down 3-4 times at regular intervals.
2
To prepare the filling, mix together all the ingredients up to and including the paprika.
3
Molding: Cut the dough into eight equal pieces and roll out each piece into a square of approximately 10 x 20 cm. Distribute the filling evenly over the squares and lay 2 to 3 strips of bacon lengthwise on the squares before rolling them up. Cut each roll lengthwise in half and then twist both parts together and place them on the baking paper lined baking tray.
4
Baking: Bake the rolls for between 20-25 Minuten in the middle of an oven preheated to 200°C, remove from the oven and allow to cool down on a cake rack or grid.
Source:
IG Dinkel, Judith Gmür-Stalder