PureSpelt coffee rolls
Preliminary time: Leave to rise for 3-4 hours or overnight
Preparation time: approx. 30 minutes
Baking or cooking time: approx. 20 minutes
For 10-12 rolls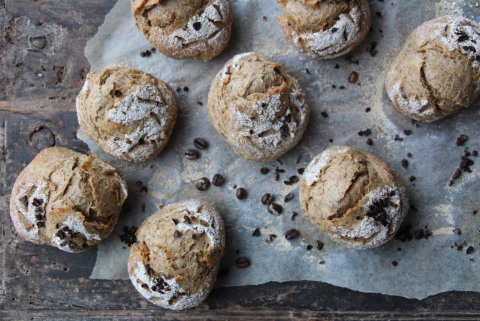 Yeast dough
500 g of PureSpelt semi-white flour with 20% grist or semi-grist flour
1 1/2 teaspoons of salt
1-2 tablespoons of coffee beans, freshly ground
1 tablespoon of rosemary, finely chopped
10 g of yeast, crumbled
Approx. 2.5 dl of water
150 g of potatoes boiled in their skins, peeled and finely grated
Garnish
A little PureSpelt semi-white flour with 20% grist or semi-grist flour
1-2 tablespoons of coffee beans, coarsely crushed
1
For the dough, mix together the flour, salt, coffee and rosemary. Mix the yeast with the water and add together with the grated potatoes. Knead briefly to form a soft dough. Cover the dough and leave in a cool placeto rise for 3-4 hours or overnight. During this process, punch down several times at regular intervals.
2
Cut the dough into 10-12 pieces, form into rolls, place on the baking tray covered with baking paper and dust with a little flour. Allow the rolls to rise briefly, then cut the surface as desired and sprinkle lightly with coffee.
3
Preheat the oven to 230°C. Insert the rolls in the lower half of the oven and immediately reduce the temperature to 190°C. Bake the rolls for 15-20 minutes until they are crispy and brown. Remove them from the oven and allow them to cool on a cake rack.
Suggestions
Serve the rolls with butter, smoked meat or cheese.
They also go well with soup or rustic stews.
Source:
IG Dinkel, Judith Gmür-Stalder