PureSpelt cheese fondue loaf
Preliminary time: allow to rise for 2-3 hours
Preparation time: approx. 30 minutes
Baking or cooking time: approx. 15 minutes
To serve 4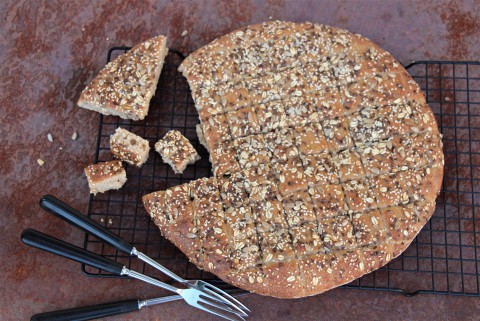 Dough
400 g of PureSpelt semi-white or white flour
100 g of PureSpelt wholemeal flour
1 1/2 tablespoons of salt
10 g of yeast, crumbled
1.5 dl of milk
1.5 dl of water
2 tablespoons of white wine or water
Decoration
1 tablespoon of egg-white or water
2-3 tablespoons of kernel mix
1
For the dough, mix together the flour and salt. Add the yeast, milk, water and wine and knead briefly to form a soft, smooth dough. Cover and allow to rise at room temperature for 2-3 hours, punching down or folding the dough several times during this period.
2
Roll out the dough into a flat circular form about 30 cm in diameter. Place it on a baking tray covered with baking paper and allow it to rise for a further 20-25 minutes.
3
Preheat the oven to 220°C. Cut the dough into 2-3 cm squares using a long sharp knife. Brush the dough squares with egg white or water and sprinkle with the seeds. Bake in the middle of the preheated oven for 12-15 minutes. Remove from the oven and leave to cool on a cake rack. Serve while still freshly baked with cheese fondue.
Source:
IG Dinkel, Judith Gmür-Stalder