PureSpelt star loaf
Preliminary time: approx. 24 hours
Preparation time: approx. 45 minutes
Baking or cooking time: approx. 40 minutes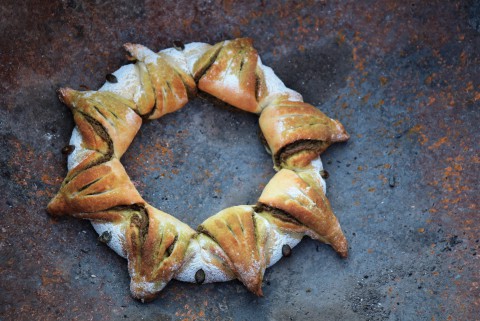 Mash
1.7 dl of water
130 g of PureSpelt half-white or white flour
Dough
500 g of PureSpelt half-white or white flour
2 teaspoons of salt
10 g of yeast, crumbled
Approx. 3 dl of water
1 teaspoon of apple vinegar
Filling
100 g of pumpkin seeds
A little fleur de sel
3-4 tablespoons of pumpkin seed or rape seed oil
A little PureSpelt flour for forming
A few pumpkin seeds to garnish
1
To prepare the mash, bring the water to the boil and add it to the flour while it is still boiling hot, stirring constantly. Continue stirring until the mixture is smooth and compact. Allow it to cool. Cover the mixing bowl and place it in a refrigerator overnight.
2
To prepare the dough, first mix together the flour and the salt. Stir in the yeast, water and cider vinegar, then "pluck in" the mash and briefly knead the mixture until the dough has a smooth consistency. Cover the mixing bowl and leave to rise at room temperature until it has doubled in volume; fold in or punch down the dough several times during this period.
3
To prepare the filling, put the chopped pumpkin seeds, salt and oil in a cutter or powerful mixer and blend into a fine paste.
4
Forming: Roll out approx. 1/4 of the dough to form a disc of approx. 20 cm diameter and place it on the baking paper lined baking tray. Brush the center of the disc with a little oil. Spread the filling in a ring around the dough base. Roll out the remainder of the dough to form a disc shape of the same size and place it over the filling on the dough base. Press the centre and edges of the dough together, ensuring they bond well. Using a sharp knife, make a star-shaped incision from the centre making sure that the outside perimeters of the two discs still remain bonded. Fold all 6-8 tips of the star outwards. Sprinkle a little flour on the shaped loaf and leave it to rise for 20-25 minutes.
5
Score the loaf as desired, garnish with pumpkin seeds and bake for 35-40 minutes in the middle of an oven preheated to 190°C. Remove the loaf from the oven and leave it to cool on a cake rack.
What else do you need:
Baking paper to line the baking tray
Source:
IG Dinkel, Judith Gmür-Stalder