PureSpelt cinnamon crispbread
Preparation time: approx. 40 minutes
Baking or cooking time: approx. 30 minutes
For approx. 40 crispbreads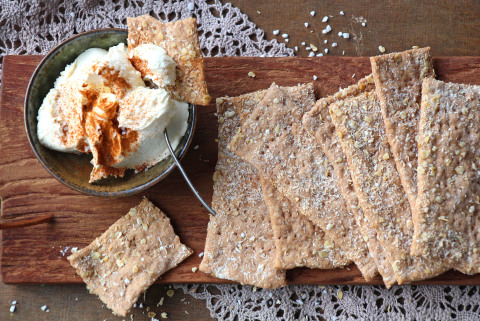 Dough
275 g of PureSpelt flour
5 tablespoons of oat flakes
1/2 tablespoon of salt
2-3 tablespoons of sugar
2 tablespoons of cinnamon
1 teaspoon of baking powder
50 g of coconut oil or butter
2 dl of water
Decoration
A little oatmeal
A few coconut flakes
A little PureSpelt flour
1
To prepare the dough, mix together the flour, oat flakes, salt, sugar, cinnamon and baking powder. Add the coconut oil or butter and crumble finely using your hands. Add the water and work together briefly to form a dough; do not knead.
2
Split the dough into 2 parts and roll out into 2 rectangular shapes on a surface sprinkled with oat flakes, coconut flakes and flour. Cut into rectangles of any convenient size, place them on the baking trays covered with baking paper and prick each several times using a fork.
3
Baking: Bake the crispbreads for 10-12 minutes in the middle of an oven preheated to 180°C. Subsequently reduce the oven temperature to 160°C and bake for a further 15-20 minutes. Switch off the oven, open the oven door slightly and allow the crispbreads to dry out completely. Remove from the oven and allow them to cool down.
Suggestions
Mascarpone cheese, cinnamon and granulated sugar are the ideal complement to the crispbreads.
Top the crispbreads with yoghurt or quark and fresh fruit and enjoy.
If kept dry and cool, the crispbreads can be stored for 2-3 weeks.
Source:
IG Dinkel, Judith Gmür-Stalder