PureSpelt Hot Cross Buns
Preliminary time: approx. 24 hours
Preparation time: approx. 45 minutes
Baking or cooking time: approx. 30 minutes
For approx. 15 buns, baking tray approx. 20 x 30 cm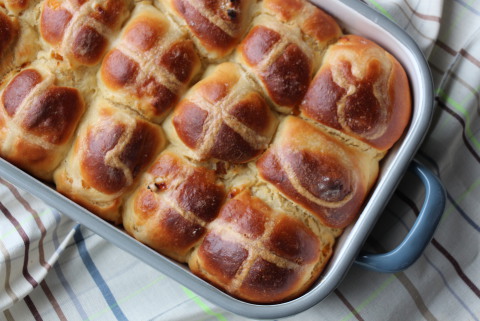 Sourdough starter
1.7 dl of water
130 g of PureSpelt half-white or white flour
Dough
500 g of PureSpelt half-white or white flour
1 tablespoon of salt
60 g of sugar
1/4 tablespoon of cinnamon
1 pinch each of nutmeg and clove powder
10 g of yeast, crumbled
Approx. 2 dl of milk
2 eggs
75 g of butter, cut into pieces
100 g of dried apricots, finely diced, briefly soaked and drained
Decoration
30 g of PureSpelt half-white or white flour
1 teaspoon of rapeseed oil
2 1/2-3 tablespoons of cold water

A little milk for brushing
1
To make the sourdough starter, bring the water to the boil, add the boiling hot water to the flour while stirring constantly, continue stirring until the mixture is smooth and compact. Allow the starter to cool. Cover the bowl and place it in the refrigerator overnight.
2
To prepare the dough, mix together the flour, salt, sugar and spices. Mix in the yeast, milk, eggs and butter. Add the sourdough starter and knead briefly to form a smooth, soft dough. Sprinkle the dough with dried fruit. Cover the mixing bowl and allow the dough to rise over night at room temperature or for 3-4 hours in a cooler place, punching down several times during this period.
3
Cut the dough into approx. 15 equal pieces. Form each piece into a roll shape and arrange them evenly on the buttered baking dish. Cover and allow to rise for another 45-60 minutes.
4
Decoration: Mix together the flour, oil and water to form a smooth paste and fill into a piping bag. Decorate the risen rolls as desired with Easter crosses, Easter eggs or Easter bunnies.
5
Baking: Bake the Hot Cross Buns in the lower half of an oven preheated to 180°C for 30-35 minutes. Remove from the oven, brush with milk while they are still hot and then allow to cool.
Source:
IG Dinkel, Judith Gmür-Stalder