PureSpelt pumpernickel loaf
Preliminary time: approx. 30 hours
Preparation time: 30 minutes
Baking or cooking time: 16 Stunden
For one 26 cm baking tin, roasting bag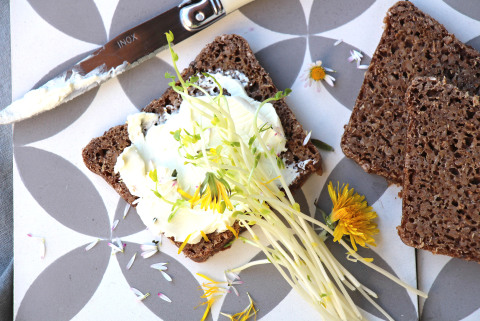 Starter culture
2.5 dl of water
125 g of PureSpelt grain
2 tablespoons of salt
Sourdough
325 g of PureSpelt grain
3 dl of water
100 g of active starter for sourdough
1 tablespoon of salt
Pumpernickel dough
1 dl of water
300 g of PureSpelt grain
Starter culture
Sourdough
1
For the starter culture, bring the water to the boil, add it to the PureSpelt grain while stirring and continue stirring briefly. Mix in the salt, cover and leave to cool. When cool, place in the refrigerator overnight.
2
For the sourdough, mix together the PureSpelt grain and the water (hand-hot). Mix in the grain mash and the salt, cover the bowl and allow to rise at room temperature (approx. 24°C) for 12 hours.
3
For the pumpernickel dough, bring the water to the boil, add the boiling hot water to the grain while stirring constantly and mix well. Add the active starter and the sourdough and knead using the dough hook on the hand mixer. Cover the bowl and leave to stand for 30 minutes at room temperature. Knead the dough again, form it into a loaf shape using your wet hands and put it into the prepared baking tin. Place the baking tin in the roasting bag and add 2-3 tablespoons of water. Close the bag tightly and allow the dough to stand for about 1 hour.
4
Bake/steam: Place the pumpernickel loaf in the roasting bag in the middle of an oven preheated to 120°C. Bake for 6 hours. Reduce the temperature of the oven to 100°C and bake for another 6 hours. Reduce the oven temperature to 80°C and bake the bread for another 4-6 hours. Take the pumpernickel loaf out of the oven, remove it from the baking tin and allow it to stand for 1-2 days. Cut the loaf in slices as desired and enjoy.
Suggestions
Serve the slices of PureSpelt pumpernickel loaf spread with cream cheese and garnish them with shoots and edible flowers. Season with a little pepper and fleur de sel.
Cut the pumpernickel loaf into slices and then deep freeze it so that you can take it out and enjoy it in portions.
In the recipe "PureSpelt sourdough bread", you can see how a starter culture can be prepared.
You can grind the original spelt grain yourself in a powerful mixer. A mixture of fine, medium and coarse grist is ideal.
My thanks goes to the German blog "ploetzblog.de" for the pumpernickel with rye flour recipe that gave me the inspiration.
Source:
IG Dinkel, Judith Gmür-Stalder