PureSpelt hotdog buns
Preliminary time: approx. 4 hours
Preparation time: approx. 30 minutes
Baking or cooking time: approx. 18 minutes
For 8 buns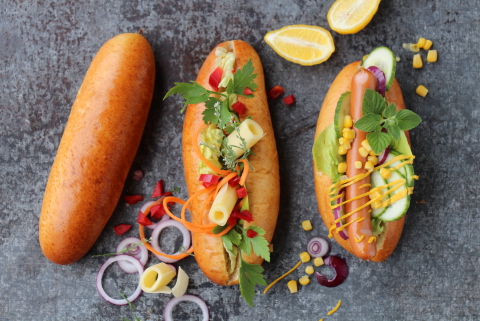 Dough
500 g of white or semi-white PureSpelt flour
1 1/2 teaspoons of salt
1 tablespoon of sugar
1 pinch of ascorbic acid or 1 teaspoon of lemon juice
5-10 g of yeast, crumbled
Approx. 2.5 dl of milk water (half milk, half water)
1 egg white
30 g of butter, cut into pieces

1 egg yolk mixed with 1 tablespoon of milk, for glazing
1
For the dough, mix together the flour, salt, sugar and ascorbic acid. Add the yeast, milk water, egg white and butter and then knead only briefly to form a soft, smooth dough. Cover the yeast dough and leave it to rise; either for 3-4 hours at room temperature or for 1 hour at room temperature and then overnight in the refrigerator until it has doubled in volume. During this time, punch down or fold the dough several times.
2
Cut the dough into 8 equal pieces and form each into a roll of approx. 18 cm length and place them on the prepared baking tray. Allow to rise for another 15-20 minutes.
3
Brush the rolls with egg yolk and bake in the middle of the oven preheated to 200°C for 15-18 minutes. Remove from the oven, allow to cool on a cake rack and fill according to taste.
Suggestions
Fill the rolls according to taste, e.g. with lettuce, tomatoes, cucumber, sweet corn, Wienerli hotdogs, cheese rolls, carrots, pepperoni, curry mayonnaise, herbs and onions.
Source:
IG Dinkel, Judith Gmür-Stalder