PureSpelt brioche royale
Preliminary time: approximately 8 hours each to cool and rise
Preparation time: approx. 30 minutes
Baking or cooking time: approx. 40 minutes
Ring mold cake pan, 22-24 cm in diameter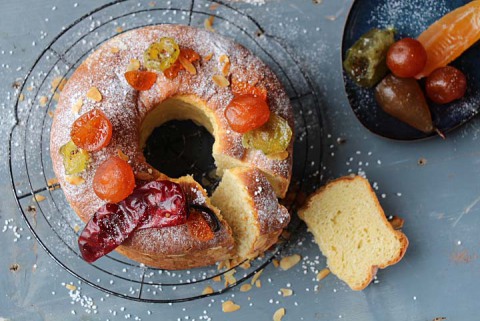 Scalded grain (Brühstück)
1.7 dl of water
130 g of PureSpelt white or semi-white flour
Dough
400 g of PureSpelt white or semi-white flour
1 1/2 teaspoons of salt
50 g of sugar
1 packet of vanilla sugar
10 g of yeast, crumbled
1 tablespoon of orange blossom water, to taste
1 tablespoon of lemon juice
3 eggs
175 g of butter, cold, cut into pieces
Optionally a little milk

Butter and flaked almonds for the cake mold
Decoration
A little powdered sugar and granulated sugar
Candied fruit, according to taste
1
Scalded grain (Brühstück): Bring the water to the boil, add to the flour while stirring, continue stirring until the mixture is compact and smooth. Allow the mixture to cool. Cover and refrigerate overnight.
2
Dough: mix together the flour, salt, sugar and vanilla sugar. Add plucked pieces of the scalded grain and then add the rest of the ingredients for the dough. Knead briefly into a soft, smooth dough and allow to rise, covered, at room temperature for 3-4 hours. During this time, punch down or fold the dough several times. Then form the dough into a roll on a lightly floured surface and place in the buttered cake mold sprinkled with flaked almonds. Cover and allow to rise for 2-3 hours until the dough just reaches the edge of the mold.
3
Bake the brioche for 40 to 45 minutes in the lower half of the oven preheated to 180°C. Remove from the oven, allow to cool briefly in the pan, then turn out onto a wire rack. Decorate while lukewarm or cooled and serve fresh.
Source:
IG Dinkel, Judith Gmür-Stalder