PureSpelt soft pretzel fir trees
Preliminary time: approx. 12 hours
Preparation time: approx. 45 minutes
Baking or cooking time: approx. 20 minutes
For 2 round pretzel loaves each cut into 8 pine trees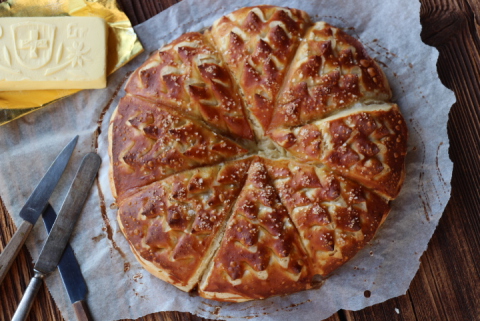 Scalded grain (Brühstück)
1.7 dl of water
130 g of PureSpelt white or semi-white flour
Dough
500 g of PureSpelt white or semi-white flour
1 1/2 teaspoons of salt
50 g of butter, cut into pieces
10 g of yeast, crumbled
Approx. 2.75 dl of milk

50 g of butter, liquid, for shaping
Decoration
3-4 tablespoons of sodium bicarbonate
A little fleur de sel salt for sprinkling
1
Scalded grain (Brühstück):
Boil the water, add to the flour at boiling point while stirring continuously until the mixture is compact and smooth. Allow the scalded mixture to cool, cover and refrigerate overnight.
2
Dough:
Mix together flour and salt. Add the scalded grain (Brühstück) and the remaining ingredients for the dough. Knead briefly into a soft, smooth dough and allow to rise, covered, at room temperature for 3-4 hours. During this time, punch down or fold the dough several times.
3
Shape:
Cut the dough into 6 pieces, roll each out using a little flour to form a flat, round loaf about 22 cm in diameter. Place one round loaf each on the baking tray lined with baking paper. Brush these with melted butter, top with another round loaf and brush with the remaining butter so that 2 round loaves of dough, each with 3 dough loaves on top of each other, are on the trays. Cover and allow to rise for 1-2 hours until it has doubled in volume.
4
Baking 1:
Just before baking, brush the top two dough loaves with baking soda. Using a large knife, cut 8 pieces into each and cut the surfaces with scissors to make little fir tree pretzels. Sprinkle with fleur de sel to taste.
5
Baking 2:
Place the lye pretzels in the middle of the oven preheated to 220°C. Reduce temperature to 190°C and bake for 20-25 minutes. Remove from the oven and allow to cool on a rack.
Important
The sodium bicarbonate (baking soda) from the baker must be used according to instructions, it colors the pastry intensely brown and is very aromatic.
It is easier to dissolve 1 teaspoon of sodium bicarbonate in 4-5 tablespoons of boiling hot water. Brush the surface of the dough with it and then sprinkle with salt as desired.
Instead of salt, sprinkle the dough with sesame seeds, white or black.
Source:
IG Dinkel, Judith Gmür-Stalder