PureSpelt Fruit Bread
Preliminary time: approx. 4 hours
Preparation time: approx. 40 min
Baking or cooking time: approx. 80 min
28-30 cm loaf pan, lined with parchment paper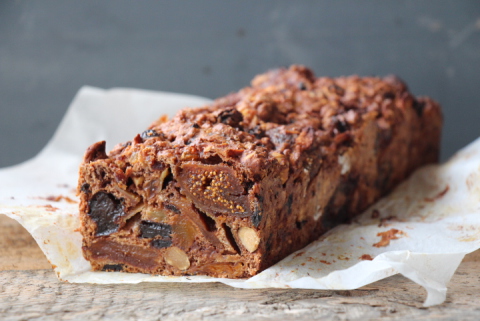 Fruit bread
600 g apple, peeled and sliced finely
250 g dried figs, chopped
250 g prunes, pitted
100 g dried cherries or raisins
150 g dried cranberries
100 g dried mango, chopped
250 g dried apricots, chopped
250 g raw sugar
150 g hazelnuts, toasted and with the skins removed
2 tsp cinnamon
1 tsp vanilla, as powder or scraped from a vanilla bean
each 1/2 tsp ground coriander and ground cardamom
pinch ground cloves
2 tbsp cocoa powder
100 ml rum, kirsch or apple juice
400 g PureSpelt flour with grist (Schrot)
1/2 tsp salt
15 g (1 packet) baking powder
150 ml almond milk, coconut milk or milk
2 tbsp lemon juice
1
In a large bowl, mix the apple, dried fruit, raw sugar, nuts, spices, cocoa powder and rum, then let rest for 2-3 hours. Mix together the flour, salt and baking powder, then mix into the fruit mixture, along with the almond milk and lemon juice. Stir everything well and scrape into the prepared loaf pan.
2
To bake: Preheat oven to 180 °C top and bottom heat (160 °C convection). Bake for 70-80 minutes in the bottom half of the oven. Remove and let cool. Wrap and let rest and mature for 1-2 days before serving.
Tips
The fruit bread keeps 4-6 days, when wrapped and store in a cool place.

If desired, it can be portioned, wrapped and frozen. Before serving, let defrost on a cooling rack.
Source:
IG Dinkel, Judith Gmür-Stalder