PureSpelt Popcorn Bread
Preliminary time: approx. 24 hours
Preparation time: approx. 1 hour
Baking or cooking time: approx. 50 minutes
1 Loaf, Dutch oven with lid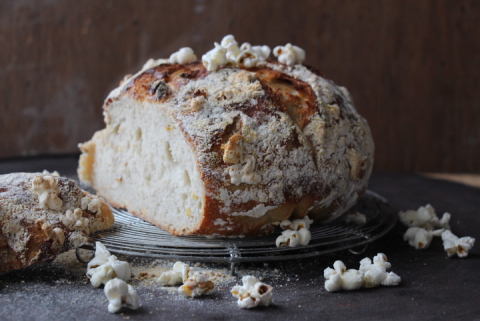 Popcorn
1 tbsp oil
50 g popcorn kernels
Scalded Grain (Brühstück)
170 ml water
130 g PureSpelt half white or dark flour (Ruchmehl)
Pre-ferment
100 ml water, lukewarm
1-2 g yeast
100 g PureSpelt half white or dark flour (Ruchmehl)
Bread
350 g PureSpelt half white or dark flour (Ruchmehl)
5-10 g yeast, crumbled
approx. 250 ml water
scalded grain (Brühstück)
pre-ferment from the previous day
10 g salt
a little fine cornmeal and PureSpelt flour for forming
1
Popcorn: Warm the oil in a pot with a lid. Add the popcorn in a single layer, cover the pot, and shake often as the kernels pop. Let the popcorn cool.
2
Scalded grain (Brühstück): Boil the water, pour the boiling water into the flour while stirring constantly; continue to stir until the mixture is smooth and compact. Allow the mixture to cool, cover, and place in the refrigerator over night.
3
Pre-ferment: Mix the water and yeast. Add the flour and mix until smooth. Let sit 1-2 hours at room temperature, then cover and place in the fridge overnight.
4
Bread dough: In a large bowl add the flour. Mix the yeast and water and add this to the flour. Add the scalded grain, then the pre-ferment, kneading lightly. Add the salt and lightly knead to a smooth dough. Let rise for 1-2 hours at room temperature.
5
Knead approx. 2/3 of the popcorn into the dough, then let rise for an additional 2-3 hours, occasionally pressing the dough down.
6
Forming: Spread the rest of the popcorn, flour and cornmeal onto your work surface. Place the dough on top and carefully form a round loaf, then place it on a well-floured tea towel and put it in a bowl. Cover and let rise for another 30-60 minutes.
7
Baking: Preheat your oven to 230-250 °C. Place the covered Dutch oven in the bottom half of your oven and preheat for at least half an hour. Take out the Dutch oven and, with the help of the tea towel, remove the bread from the bowl and place in the pot. Cut a cross in the top, cover with the lid and put back in the oven. Let bake for 30 minutes, not opening the oven door. After 30 minutes, remove the lid, reduce the oven temperature to 190 °C, and let bake for an additional 15-20 minutes. Remove from oven and let cool on a rack.
Source:
IG Dinkel, Judith Gmür-Stalder