PureSpelt Schlumbergerli
Preliminary time: approx. 24 hours
Preparation time: approx. 50 minutes
Baking or cooking time: approx. 20 minutes
For 12-15 buns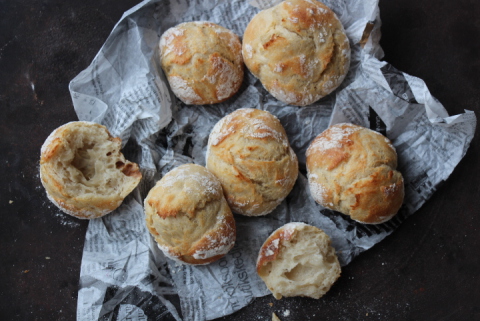 Pre-ferment
80 g water
1-2 g yeast
100 g PureSpelt half white or white flour
Scalded Grain (Brühstück)
170 ml water
130 g PureSpelt half white or white flour
Bread
400 g PureSpelt half white or white flour
1 tbsp honey
5-8 g yeast, crumbled
approx. 275 ml water
pre-ferment
scalded grain
15 g salt
PureSpelt flour for forming
1
Pre-ferment: Mix the water and yeast. Add the flour and mix until smooth. Let sit 1-2 hours at room temperature, then cover and place in the fridge overnight.
2
Scalded Grain (Brühstück): Boil the water, pour the boiling water into the flour while stirring constantly; continue to stir until the mixture is smooth and compact. Allow the mixture to cool, cover, and place in the refrigerator over night.
3
Bread dough: In a bowl, add the flour, then the honey, yeast and water. Add the pre-ferment, then the scalded grain, and quickly knead it together. Add the salt and knead to a smooth, moist dough. Cover and let rise for 3-4 hours at room temperature, giving occasional folds. Alternatively, let rise for 1-2 hours at room temperature, and then let rest overnight in the fridge.
4
Forming: Split the dough into 12-15 pieces, form round (though not too tight) buns, then dip their bottoms in flour and place them on a floured towel. Let rise for an additional 15-30 minutes.
5
Baking: pre-heat the oven and baking sheet to 230 °C. Turn the buns onto the hot baking sheet so that their floured bottoms are up. Place in the bottom half of the oven, spray with water and bake for 20-25 minutes. Remove from the oven and let cool on a cooling rack.
Tips
Schlumbergerli taste great on their own, or stuffed with delicious fillings and served as sandwiches.
The scalded grain (Brühstück) and pre-ferment give the buns a fluffy and moist crumb, with extra flavour and a crispy crust.
Source:
IG Dinkel, Judith Gmür-Stalder