PureSpelt Taralli
Preparation time: approx. 45 minutes
Baking or cooking time: approx. 35 minutes
makes 80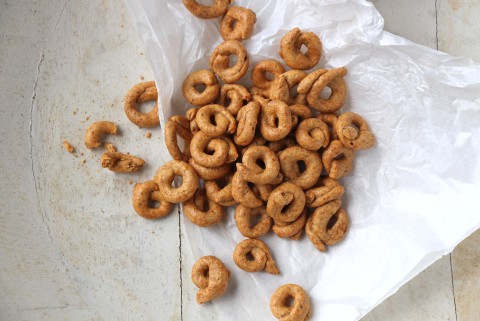 Dough
150 g PureSpelt wholegrain flour (Vollkornmehl)
125 g PureSpelt half white or white flour
1 tsp salt
pinch baking powder
1 tsp garlic powder
2 tsp marjoram
1 tsp paprika
1 tsp chili flakes
50 ml olive oil
125 ml white wine
1
Mix together the flour, salt, baking powder, and spices. Add the olive oil and white wine, mix until you get a smooth dough, then cover and let rest for a short while.
2
Form rolls about 8 mm in diameter and cut them to about 7-8 cm in length. Wrap around your finger to form Taralli. Place on a parchment-lined baking sheet and let dry for about 5-10 minutes.
3
Bring water to a boil in a wide pot. Add the Taralli in stages, letting them rise to the surface, then scooping them out with a slotted spoon. Let the excess water drip off, then place on a clean dish towel. Repeat with the remaining Taralli.
4
Place the Taralli on a parchment-lined baking sheet. Bake for about 30-35 minutes in an oven preheated to 180°C. Turn off the oven, prop open the oven door slightly, and let the Taralli dry fully.
Source:
IG Dinkel, Judith Gmür-Stalder