PureSpelt Ruchbrot (dark bread)
Preliminary time: approx. 12 hours
Preparation time: approx. 40 minutes
Baking or cooking time: approx. 35 minutes
makes 2 loaves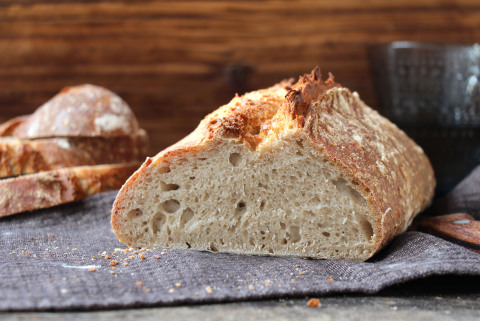 Scalded Grain (Brühstück)
130 g water
100 g PureSpelt dark flour (Ruchmehl)
Dough
500 g PureSpelt dark flour (Ruchmehl)
1 1/2 tsp salt
1-2 g yeast
approx. 350 g water
1 tsp apple cider vinegar or 1 tbsp plain yogurt
1 tbsp active sourdough, if desired

PureSpelt dark flour (Ruchmehl) for forming
1
Scalded grain: Boil the water, then pour the boiling water into the flour while stirring constantly; continue to stir until the mixture is smooth and compact. Allow the mixture to cool, cover, and place in the refrigerator overnight.
2
Dough: mix the flour and salt, then form a well in the middle. Add the yeast, water, vinegar and sourdough. Add the scalded grain and briefly knead into the dough, then knead briefly until you have a smooth dough. Leave the dough at room temperature for about 3-4 hours pressing down and folding occasionally.
3
Forming: split the dough in half and form two loaves with good surface tension. Place, seam-side up, in floured oblong proofing baskets or floured cake pans lined with tea towels. Cover lightly and let rise in a cool place or refrigerator for 6-8 hours.
4
Preheat the oven and a baking stone or baking sheet to 230 °C.
5
Once the bread has risen, flip the loaves out onto a strip of baking paper each, cut the tops as desired and immediately slide them onto the hot baking stone or baking sheet. Add steam, reduce the temperature to 190 °C and bake the breads for 35-40 minutes. Remove and let cool on a cooling rack.
Tips
If desired, you can bake one loaf at a time in a preheated cast iron pot.

You can create steam during baking in a few different ways: some ovens have a special program that adds steam, or you can place a bowl of water inside the oven, or you can throw a handful of ice cubes onto a preheated baking tray.
After about 15 minutes of baking, you can let out the remaining steam or moisture by briefly opening the oven door. Then bake the bread according to the recipe until crispy.
Source:
IG Dinkel, Judith Gmür-Stalder