PureSpelt walnut/gorgonzola cheese rolls
for approx. 12 rolls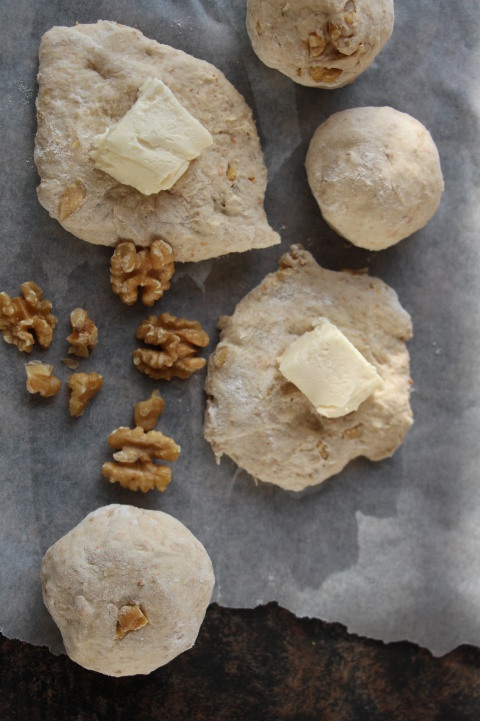 Baking paper for the baking tray
Grain mash
1.7 dl of water
130 g of PureSpelt half white flour with 20% whole grain
Dough
500 g of PureSpelt half-white flour with 20% whole grain
1 ½ teaspoons of salt
20 g of yeast, crumbled
2,75 dl of milk
50 g of Gorgonzola cheese, cut into pieces
1 tablespoon of white wine or non-alcoholic cider
100 g of coarsely chopped walnuts

12 cubes of gorgonzola cheese, approx. 200 g
Flour for dusting
1
Grain mash: Boil the water; add the boiling hot water to the flour while continuously stirring. Continue to stir until the mixture is smooth and compact. Allow the mash to cool. Cover and leave in the refrigerator overnight.
2
Dough: Mix together the flour and salt and form a hollow. Dissolve the yeast in the water and pour into the hollow in the flour. Add the grain mash by plucking off pieces and stir briefly. Add the gorgonzola cheese and the white wine or cider then knead quickly to form a wet, smooth dough. Briefly mix in the chopped walnuts. Cover the dough and leave to stand at room temperature until it has risen to twice the volume.
3
Briefly knead the risen dough again and then leave to rise for a further 20 to 30 minutes.
4
Cut the dough into 12 equal pieces, form each piece into a ball and carefully work a cube of gorgonzola cheese into the centre of the each ball. Place each ball on the baking paper lined baking tray; lightly dust the balls with flour, cover and allow to rise for a short time.
Baking
Place the baking tray in an oven preheated to 230°C, reduce the temperature to 190°C and bake for 20-25 minutes. Remove from the oven and place on a grid to cool. Serve the rolls either lukewarm or cold.
Source:
IG Dinkel, Judith Gmür-Stalder