PureSpelt Santa Claus hats
for approx. 15 hats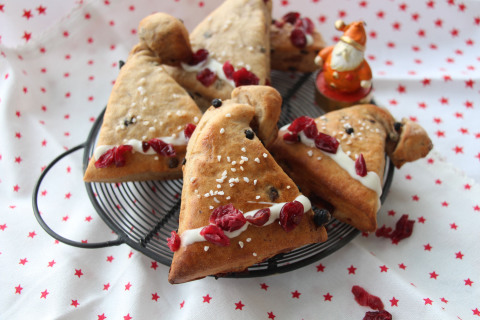 Grain mash
1.7 dl of water
130 g of PureSpelt half-white or white flour
Dough
450 g of PureSpelt half-white or white flour
50 g of ground almonds or hazel nuts
3 tablespoons of sugar
1 tablespoon of gingerbread spice
1 ½ teaspoons of salt
20 g of yeast, crumbled
1 ½ dl of milk
Approx. 1 dl of water
50 g of butter, cold, cut into pieces
75 g of cranberries and dried blueberries or raisins, softened briefly in hot water and drained

A little egg white for brushing
Crystal sugar for decoration

½ packet of white icing, prepared in accordance with the instructions on the packet
Cranberries as decoration
1
Grain mash: Boil the water and pour the boiling hot water on to the flour while stirring constantly. Continue to stir until the mixture is smooth and compact. Allow the grain mash to cool. Cover and place in the refrigerator over night.
2
Dough: Mix together the flour, ground almonds, sugar, gingerbread spices and salt, form a hollow. Dissolve the yeast in the water and pour into the hollow. Add the grain mash in small portions, mix briefly. Add the butter and briefly knead into a smooth, wet dough. Very briefly mix in the cranberries and blueberries or raisins, cover the dough and allow it to rise at room temperature until it has increased to twice the volume.
3
Briefly knead the dough, cover it again and allow it to rise for a further 20-30 minutes.
4
Roll out the dough on a lightly floured surface to form a square approx. 1 cm thick, cut out triangles (Santa Claus hats) to the desired size. Use the rest of the dough to cut out decorative shapes (bobbles, pompoms), stick onto the triangles using a little egg white and lay the Santa Claus hats on a baking tray lined with baking paper; briefly allow to rise further. Brush the Santa Claus hats with egg white and decorate using crystal sugar.
Baking
Place the baking tray with the hats into an oven pre-heated to 230°C, decrease the temperature to 190°C and bake for 15-20 minutes. Remove the hats from the oven, transfer to a grid and allow to cool.
5
Before serving decorate the Santa Claus hats using icing sugar and cranberries.
Source:
IG Dinkel, Judith Gmür-Stalder