PureSpelt pastry man (Grittibänz) with grain mash
for 4-6 pastry men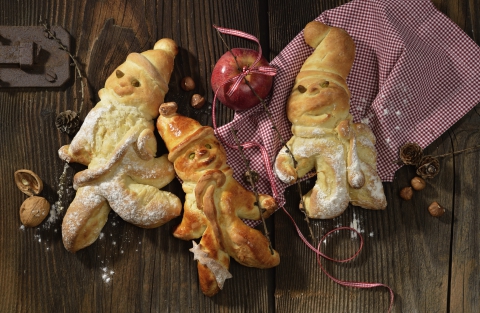 Grain mash
170 g of water
130 g of PureSpelt white flour
Dough
500 g of PureSpelt white flour
1 1/2 teaspoons of salt
1 tablespoon of sugar
25 g of yeast, crumbled
2.5-2.75 dl of milk
50 g of butter, cut into pieces, soft

1 egg yolk beaten with a little milk
Nuts, raisins, etc. to decorate
1
Grain mash: Boil the water and while it is still boiling hot pour into the flour while stirring continuously. Continue to stir until the mixture is smooth and compact. Allow the mash to cool, cover and leave to stand in the refrigerator overnight.
2
For the dough, mix together the flour, salt and sugar, form a depression. Stir the yeast together with the milk and pour into the depression. Add the butter and the mash. Briefly knead the mixture to form a wet, smooth dough. Cover and leave to rise for 1-2 hours at room temperature until it has doubled in volume.
3
Briefly knead the risen dough. Allow to rise for a further 20-30 minutes.
4
Divide the dough into four to six equal pieces and from each piece of dough form a man. Lay the pastry men on 1-2 baking trays covered with baking paper, if desired brush with egg yolk and decorate.
Baking
Place the baking tray(s) in an oven preheated to 230°C. Reduce the temperature to 190°C. Bake the pastry men for 20-30 minutes. Remove from the oven and slide onto a grid to cool.
Variations
According to your taste, replace 100-200 g of the PureSpelt white flour with PureSpelt wholemeal flour. Or instead of PureSpelt white flour, use PureSpelt half-white flour with 20 % grist. To make sweet pastry men (Grittibänz) add an additional 3 tablespoons of sugar, 100 g of raisins or chopped chocolate.
Source:
IG Dinkel, Judith Gmür-Stalder