PureSpelt party bread
for approx. 30 chelsea buns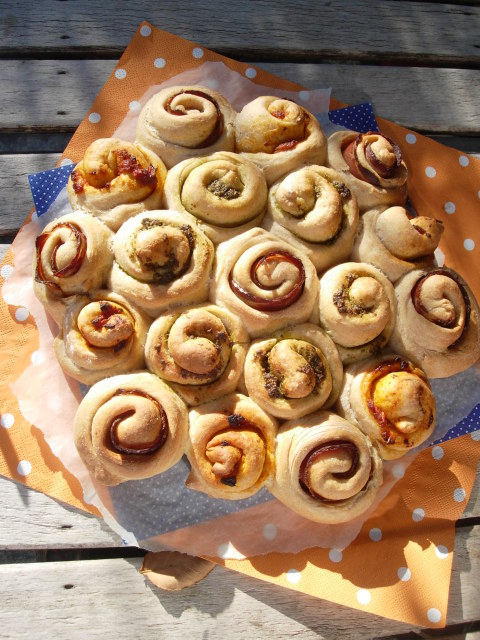 500 g of PureSpelt half-white flour
250 g of PureSpelt wholemeal flour
2 teaspoons of salt
30 g yeast, crumbled
1 teaspoon of honey
Approx. 3.5 dl of water
150 g quark (curd cheese)
Filling
Approx. 4 tablespoons of tomato pesto
Approx. 4 tablespoons of olive tapenade
10 slices of cured bacon
1
For the dough, mix the flour and salt. Dissolve the yeast with the honey and the water, add the quark. Add to the flour and briefly knead to form a smooth, soft dough. Cover the dough and leave it to rise to twice its volume.
2
Cut the dough into 30 equal pieces. Using a little flour, form each piece of dough into a 20-22 cm long roll, flatten the rolls slightly and then spread with tomato or olive paste, or cover with cured bacon; roll into a Chelsea bun shape and lay them close together on a baking tray lined with baking paper.
Baking
Bake for 25-30 minutes in the lower half of an oven pre-heated to 200°C. Serve the party bread either lukewarm or after cooling completely.
Source:
IG Dinkel, Judith Gmür-Stalder