PureSpelt rye ring
Preliminary time: ca. 3 Stunden aufgehen lassen
Preparation time: ca. 20 Minuten
Baking or cooking time: ca. 35 Minuten
for 1 loaf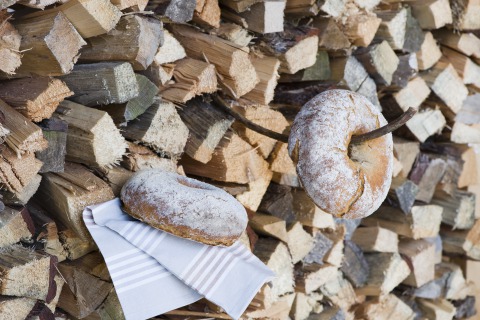 200 g of PureSpelt wholemeal flour
100 g of PureSpelt flour with 20% grain
200 g of rye flour, light colour
1 ½ teaspoons of salt
25 g of yeast
1 teaspoon of sugar
2 tablespoons of natural yoghurt
1 teaspoon of lemon juice
Approx. 3 dl of water
1
For the dough, mix the flour and the salt. Dissolve the yeast with the sugar, the yoghurt, lemon juice and water, add to the flour and knead into a soft dough. Cover the dough and leave to stand at room temperature for 1-2 hours until it has increased to twice its volume.
2
Knead the dough and leave to rise for a further hour.
3
On a lightly floured surface, form the risen dough into a ball, make a whole right through the middle and using light circular motions form a ring of approx. 22 cm diameter. Place the ring on a baking tray covered with baking paper and sprinkle with flour.
Baking
Bake the bread for 10 minutes in the lower half of an oven pre-heated to 230°C. Then reduce the temperature to 200°C and finish baking for 30-35 minutes. Remove the bread ring from the oven and place on a grid to cool.
Information
Instead of forming a ring, you can also split the dough into 12-15 rolls and bake them for 20-25 minutes at 200°C. The rolls can be deep frozen and then thawed out in portions and enjoyed after re-baking for a short time.
Source:
IG Dinkel, Judith Gmür-Stalder