PureSpelt plaited loaf with grain mash
for 2 plaited loaves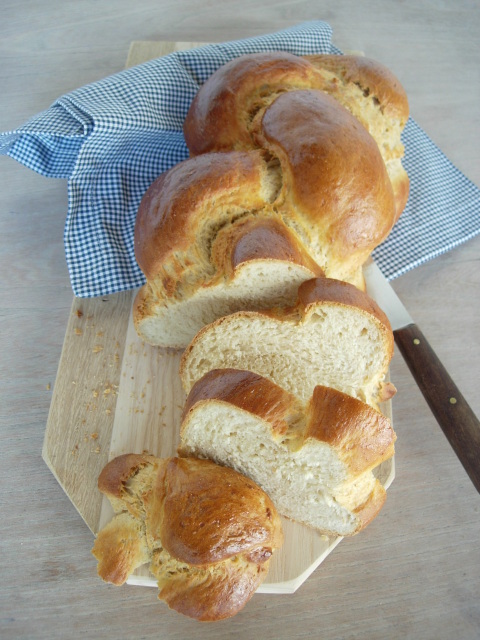 Mash
260 g of water
200 g of PureSpelt white flour or half-white flour
Dough
800 g of PureSpelt white or half-white flour
3 teaspoons of salt
40 g of yeast, crumbled
Approx. 4.5 dl of milk
75 g of butter, cut into pieces

A small amount of flour for forming
1/2 an egg, whisked, for brushing
1
Mash: Boil the water, under constant stirring pour the boiling water onto the flour; continue to stir until the mixture is smooth and compact. Allow the mash to cool, cover and place in the refrigerator over night.
2
Dough: Mix the flour and salt, form a hollow. Mix the yeast with the water and add to the mixture. Add the butter and the mash. Briefly knead into a wet, smooth dough. Cover and allow it to rise at room temperature for 1-2 hours until it has doubled in volume.
3
Punch down the risen dough. Leave the dough to rise for a further 20-30 minutes.
4
Divide the dough into four, using a little flour form rolls between 50-60 cm in length and plait two plaits for each loaf. Lay on the tray lined with baking paper. Brush with the whisked egg.
Baking
Place the tray in the lower half of an oven that is pre-heated to 230°C. Reduce the temperature to 200°C, bake the braided loaves for 40-45 minutes. Remove and place on a grid to cool.
Information
If you add a grain mash to a yeast dough of PureSpelt flour, both the pastry and the plaited loaf retain their form much better, and also the finished bread remains pleasantly moist and fresh for much longer.
Source:
IG Dinkel, Judith Gmür-Stalder