PureSpelt Easter bunny
for 8-10 bunnies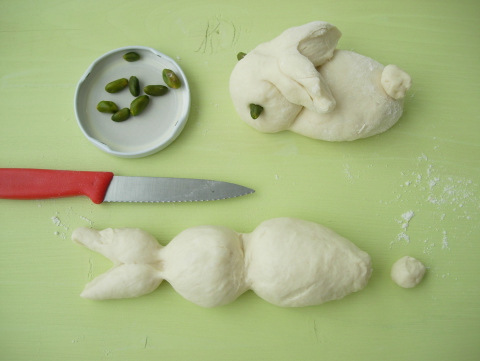 500 g of PureSpelt white flour
1 1/2 tablespoons of salt
15 g of yeast, crumbled
Approx. 2,75 dl of milk
50 g of butter, diced, soft

Pistachios or raisins for the eyes
1
For the dough, mix the flour and the salt. Mix the yeast with the milk, add to the flour. Add the butter. Briefly knead into a soft, elastic dough. Cover and allow to rise at room temperature for approximately 2 hours.
2
Once again briefly knead the dough and then allow it to rise.
3
Cut the dough into 8 to 10 pieces. Form each piece into a roll 20-25 cm in length. Roll thinner for the ears and the head and on each roll cut off a small piece for the tail (see the photo). Cut off the ears and place them on the head and then lay the head onto the bunny's body. Fix the tails and lay the finished bunnies on a baking paper lined tray. Push the pistachio or raisin eyes well into the dough.
Baking
Bake for 20-25 minutes in the middle of an oven pre-heated to 200°C. Remove and place on a grid to cool.
Source:
IG Dinkel, Judith Gmür-Stalder