PureSpelt muesli rolls
for 12 rolls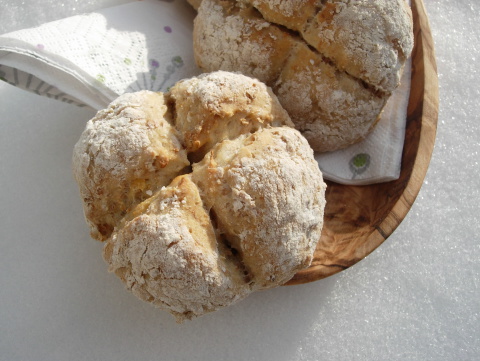 4400 g of PureSpelt half white flour with 20% bruised grain
150 g of PureSpelt muesli mixture
1 1/2 teaspoons of salt
15 g of yeast. crumbled
Approx. 3 dl of water

PureSpelt flour for shaping
1
Mix together the flour, muesli and salt, form a hollow. Mix the yeast with the water and pour into the hollow. Briefly knead into a soft, pliable dough. Cover and allow it to rise at room temperature for 2-3 hours until it has doubled in volume.
2
Knead the dough. Leave the dough to rise for a further 30-60 minutes.
3
Cut the dough into 12 equal portions. Using a little flour, form each portion of the dough into a roll shape. Lay the rolls on a tray lined with baking paper. Cut a cross in the surface of each roll-shaped portion of dough.
Baking
Bake for 20-25 minutes in the middle of an oven pre-heated to 200°C. Remove and leave on a grid to cool.
Source:
IG Dinkel, Judith Gmür-Stalder