PureSpelt panettone
for 1 cardboard ring of 18-20 cm diameter and approximately 10 cm high covered with alumimiun foil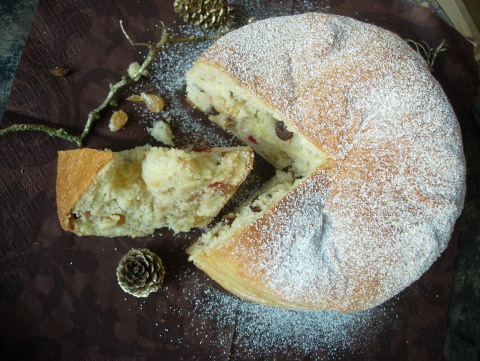 400 g of PureSpelt white flour
1/2 tablespoon of salt
75 g of sugar
1 packet of vanilla sugar
125 g of butter, diced, soft
20 g of yeast, crumbled
Approx. 1.25 dl of milk, lukewarm
1 egg, whisked
1 teaspoon of rum, according to taste
75 g of raisins
50 g of mixed candied fruit

2 tablespoons of cream
Icing sugar for dusting
1
For the dough, mix together the flour, salt, sugar and vanilla sugar, form a hollow. Add the butter. Mix the yeast with the milk and pour it into the hollow together with the egg and, if desired, the rum; knead into a soft, pliable dough. Cover and allow to rise at room temperature for 2-3 hours until it has doubled in volume.
2
Mix the raisins and candied fruit into the dough. Using a little flour form the dough into a ball and lay it in the buttered, aluminium foil covered ring that has been placed on a baking tray lined with baking paper. Cover and allow the dough to rise for a further 2-3 hours until it has doubled in volume.
3
Brush the surface of the dough with cream.
Baking
Bake for 50-60 minutes in the bottom half of an oven pre-heated to 180°C. Remove and place on a grid to allow it to cool for a short period before carefully removing the cardboard ring. Allow it to cool. Before serving, dust the panettone with icing sugar.
Suggestions
Enjoy the panettone while it is still fresh. If desired, mix 25 g of roasted almond splinters into the dough.
Source:
IG Dinkel, Judith Gmür-Stalder