PureSpelt snack rolls
Preliminary time: approx. 4 hours
Preparation time: approx. 20 minutes
Baking or cooking time: approx. 20 minutes
for 12 rolls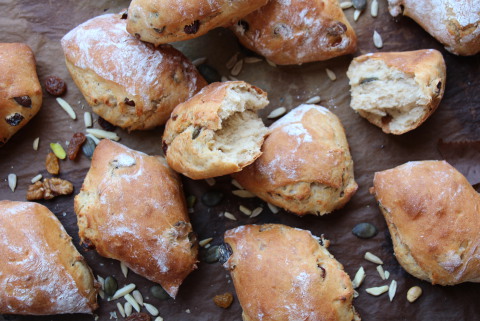 Dough
50 g of mixed seeds
100 g of raisins
400 g of PureSpelt, semi-white or brown flour
100 g of wholemeal PureSpelt flour
1 1/2 teaspoons of salt
1 sachet of vanilla sugar
5-10 g of yeast, crumbled
Approx. 2.25 dl of milk or half milk/half water
2 tablespoons of honey
150 g of curd cheese (quark)
1
Pour hot water over the seeds and raisins. Leave them to soak for approx. 1 hour, then drain through a fine sieve.
2
Dough: Mix together the flour, salt and vanilla sugar and form a hollow in the mixture. Add the yeast, milk, honey and quark and knead only briefly to form a soft, smooth dough. Knead in the seeds and raisins. Cover and leave to rise for 3-4 hours at room temperature. Punch down or fold the dough several times at regular intervals while it is rising.
3
Molding: Cut the dough in half and on a lightly floured surface form the two halves into rolls on a lightly floured surface. Using a dough horn or a knife, cut off the snack roll sized pieces, shape as you wish and place them on a baking tray lined with baking paper. Leave to rise again for 10-15 minutes.
4
Preheat the oven to 230°C.
5
Baking: Reduce the oven temperature to 190°C. Bake the rolls in the middle of the preheated oven for 15-20 minutes. Remove the rolls from the oven and leave to cool on a cake rack.
What else do you need:
Baking paper
Source:
IG Dinkel, Judith Gmür-Stalder