PureSpelt potato bread rolls
Preliminary time: 2-3 hours
Preparation time: approx. 30 minutes
Baking or cooking time: approx. 25 minutes
for 2 rings each with 7 rolls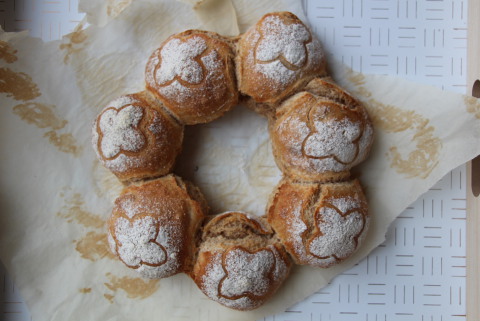 Dough
250 g of PureSpelt wholemeal flour
250 g of PureSpelt white or half-white flour
125 g of jacket potatoes, peeled, grated using a muesli (coarse) grater
1 1/2 teaspoons of salt
15 g of yeast, crumbled
1 tablespoon of honey
Approx. 3 dl of milk or milk water (half milk, half water)
2 tablespoons of natural yoghurt

PureSpelt flour for dusting
1
For the dough, mix together the flour, grated potatoes and salt. Form a hollow in the mixture and add the yeast, honey, milk or milk water and yoghurt. Briefly knead to form a soft, smooth dough. Cover and leave to rise at room temperature for 2-3 hours until it has doubled in volume, punching down the dough several times during this period.
2
Cut the dough into 14 equal-sized pieces. On a lightly floured surface, form each of the pieces of dough into a round bread roll. Lay the bread rolls on a baking tray lined with baking paper in a ring to form two wreaths, each with 7 bread rolls. Leave to rise for between 5 and 10 minutes. Dust the rolls with a little flour and decorate with a flower imprint using a flower cookie cutter.
Baking
Bake the two bread wreaths for 20-25 minutes in the middle of an oven preheated to 200°C. Remove from the oven and allow to cool on a wire grid.
Suggestions
- Mix in 1 tablespoon of caraway seeds with the flour according to taste.
- Instead of honey, use concentrated pear juice.
Source:
IG Dinkel, Judith Gmür-Stalder