Original baked PureSpelt bread and rusks
Preliminary time: leave to rise for 3 to 4 hours or over night
Preparation time: approx. 30 minutes
Baking or cooking time: approx. 1 1/4 hours
For one 1 baking tin of approximately 30 cm in length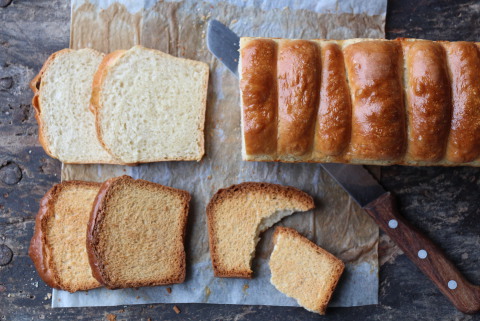 Yeast dough
500 g of PureSpelt white or half-white flour
1 1/2 teaspoons of salt
2 tablespoons of sugar
10 g of yeast, crumbled
Approx. 2.5 dl of milk
50 g of butter, cut into pieces
1 egg, beaten, 2 tablespoons set aside for brushing
A little grated peel from a bio lemon according to individual taste
1
Mix together the PureSpelt flour, salt and sugar. Stir the yeast into the milk and add it together with the butter, egg and lemon zest to the flour mixture. Knead only briefly to form a smooth soft dough. Cover and leave the dough to rise in a cool place for 3-4 hours or overnight, punching down several times at intervals.
2
Cut the dough into 8-10 pieces, form each piece into an oval bun and place them very close to each other in the baking tin form lined with baking paper. Cover the tin and allow the buns to rise for 30-60 minutes until the dough has reached 3/4 of the tin height.
3
First baking (original bake): Bake the bread for 45-50 minutes in the lower half of an oven pre-heated to 180°C. Leave the buns in the baking tin and allow to cool slightly before removing them from the tin and placing them on a grid to fully cool.
3
Second baking (rusks): Cut the original baked loaves into approximately 1 cm thick slices. Place the slices on a baking tray lined with baking paper. Roast the slices until they turn light brown on both sides for 15-20 minutes in the middle of the oven at approx. 150°C and allow to dry to zwieback. Or toast the slices in a toaster.
Suggestions
Original baked bread tastes great with tea or coffee or makes delicious fruit slices. Serve as desired with butter, honey, jam, cheese or dried meats.
For tartines, cover the baking slices with any sweet or spicy topping, garnish and serve fresh.
Rusks can be stored in a dry and cool place for 2-3 weeks.
Source:
IG Dinkel, Judith Gmür-Stalder