PureSpelt wholemeal rolls (mütschli)
Preliminary time: approx. 3 hours
Preparation time: approx. 30 minutes
Baking or cooking time: approx. 20 minutes
for 8-12 rolls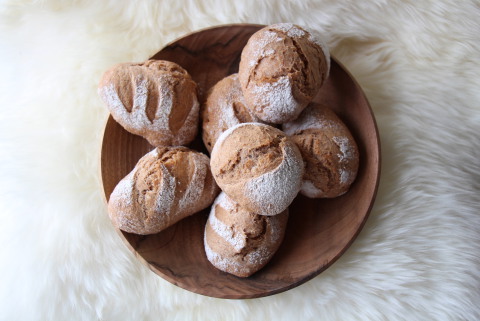 500 g of PureSpelt wholemeal flour
1 1/2 teaspoons of salt
15 g of yeast, crumbled
Approx. 3 dl of water
2 table spoons of plain yoghurt
1
Mix together the flour and the salt and form a hollow in the mixture. Mix the yeast with the water and yoghurt and pour into the hollow. Briefly knead the mixture to form a soft, smooth dough. Cover the mixing bowl with a cloth and leave at room temperature for 2-3 hours until has risen to twice its original volume. Punch down the dough several times during this period.
2
Cut the dough into 8-12 equal pieces. Using a little flour, form each piece into a round or oval roll (mütschli). Place the dough rolls on a baking tray covered with baking paper. Allow to rise again briefly, then sprinkle with a little flour. Cut decorative slits into the roll as desired.
3
Baking: Place the baking tray with the bread rolls in the middle of an oven preheated to 230°C. Reduce the temperature to 180°C and bake the rolls for 20-25 minutes until they are crispy. Remove them from the oven and transfer them to a grid to cool.
Source:
IG Dinkel, Judith Gmür-Stalder