PureSpelt miniature peanut plaited loaves
Preliminary time: 2-3 hours
Preparation time: approx. 40 minutes
Baking or cooking time: approx. 20 minutes
for 12 loaves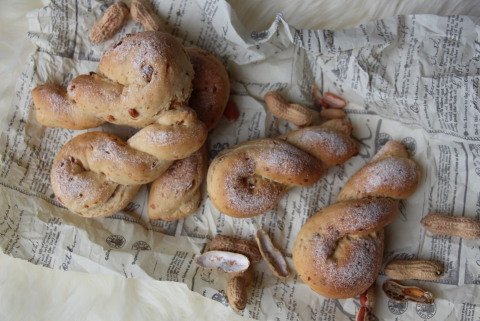 500 g of PureSpelt white flour
1 1/2 teaspoon of salt
15 g of yeast, crumbled
approx. 3 dl milk water (half milk, half water)
50 g of butter, cut into pieces
125 g of peanuts, salted, chopped
Flour for dusting
1
For the dough, mix together the flour and salt. Add the crumbled yeast and the milk water. Add the butter and briefly knead the mixture into a soft, smooth dough. Briefly knead in the peanuts. Cover the mixing bowl and leave to stand at room temperature until the dough has risen to twice the original volume, punching down the dough several times during this time.
2
Cut the dough into 12 equal pieces. Turn each piece of dough to form a 20-25 cm long roll. Twist the two ends of each roll together to form a simple plaited loaf and lay them on the baking paper lined baking tray. Dust the loaves with flour.
Baking
Bake for 20-25 minutes in the middle of an oven pre-heated to 200°C. Remove from the oven and lay on a grid to cool.
Suggestions
- Instead of plaited loaves, form the pieces of dough into small rolls, or cut out stars or hearts and then bake.
- Replace the peanuts by hazelnuts, almonds or mixed nuts.
Source:
IG Dinkel, Judith Gmür-Stalder