PureSpelt gingerbread stars
for approx. 25 stars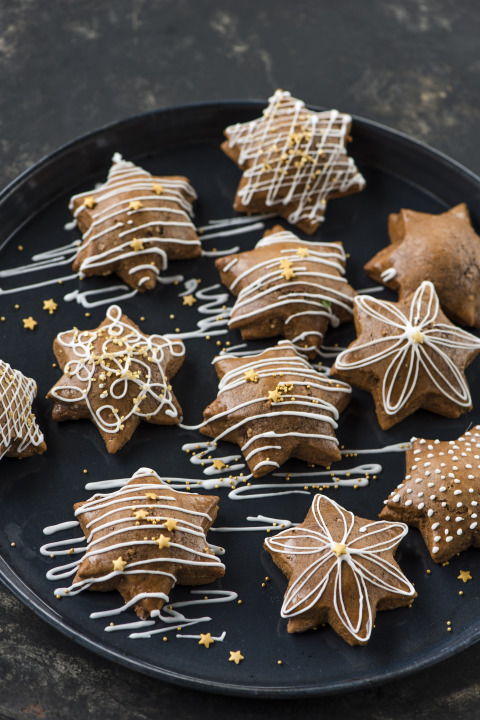 Baking paper for the baking tray

1 star cutter approx. 8 cm in diameter
1 piping bag constructed from baking paper
Dough
500 g of PureSpelt brown flour
10 g of bicarbonate of soda
75 g butter, melted, cooled
100 g of ground hazel nuts
100 g of sugar
100 g honey, liquid
1-2 tablespoons of gingerbread spices
2 tablespoons of cocoa powder
Approx. 2.25 dl of milk
Egg white for brushing
Filling
Approx. 200 g of dried-pear paste (Birnweggen paste)
Coffee cream for brushing
Glazing
150 g of icing sugar
1-2 tablespoons of egg white
A little lemon juice or kirsch liquor

Sugar stars and icing for decoration according to taste
1
Dough: Stir together all the ingredients to form a soft dough, wrap in cling foil and place in the refrigerator overnight to cool.
2
Roll out the dough until it is 3-4 mm thick, cut out an even number of stars and spread half of the stars with 1-2 teaspoons of dried-pear paste. Brush the edges of the dough with a little egg white. Now cover each of the stars using the second half of the stars, press the edges firmly together and then lay the stars on the lined baking tray.
Baking
Bake the gingerbread stars for 15-20 minutes in the middle of an oven preheated to 160°C. Remove the baking tray from the oven, brush the stars with coffee cream and allow to cool on a grid.
3
Glazing: Mix together the icing sugar, the egg white and the lemon juice or kirsch liquor to form a thick glazing paste, transfer this to the piping bag and decorate the stars according to taste. Sprinkle on sugar stars or sugar balls and allow to dry.
Suggestion
The ginger bread stars may be kept for 1-2 weeks if stored in a cool dry place.
Source:
IG Dinkel, Judith Gmür-Stalder