PureSpelt green tea butter biscuits (sables)
for approx. 70 biscuits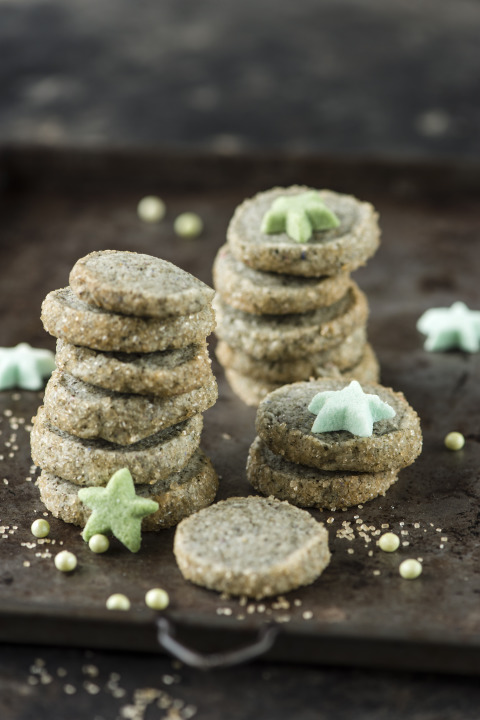 Baking paper to line the baking tray

2-3 tablespoons of green tea including the flowers, according to personal taste
300 g of PureSpelt white flour
1 pinch of salt
100 g of icing sugar
200 g of butter, cold, cut into pieces
Perhaps a little cream if desired

A little raw sugar
Sugar stars and pearls for decoration
1
Finely grind the green tea together with 100 g of flour in a cutter or in a powerful mixer/blender. Put the ground green tea together with all the other ingredients in a mixing bowl and using your hands rub to produce a fine and crumbly mixture. Divide the dough into 3 or 4 pieces and form each into a roll 3 cm in diameter. Spread the raw sugar on a clean working surface and turn the dough rolls on the sugar. Wrap each roll separately in cling foil and place in a refrigerator until the dough is firm.
2
Take the dough rolls out of the fridge and remove the cling film. Cut each roll into 6-8 mm thick slices and lay them on the lined baking tray leaving plenty of space between them.
Baking
Bake the biscuits (sables) for 12-15 minutes in the middle of an oven preheated to 180°C until they are light brown. Remove from the oven and place them on a grid to cool.
Suggestions
The biscuits can be stored in a cool dry place for up to 3-4 weeks. The green tea sables are delicious served with fruit salad, dessert crèmes or simply with a cup of tea or coffee. Use your favourite tea for the preparation of the biscuit dough.
Source:
IG Dinkel, Judith Gmür-Stalder