PureSpelt cake lollipops
for 20 lollipops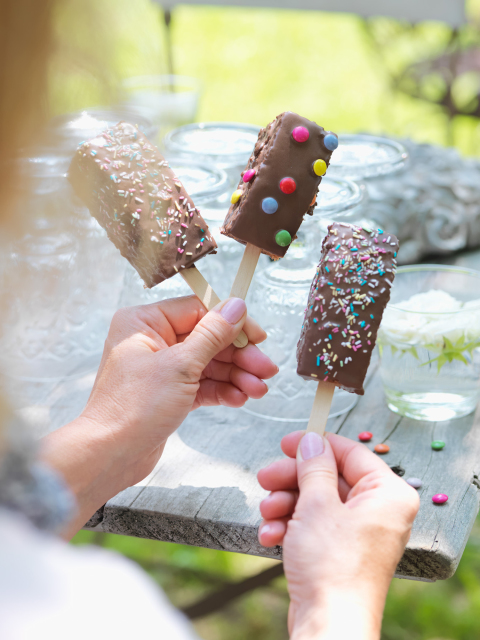 1 square baking tray approx. 23 x 40 cm
Baking paper for lining the baking tray
20 lollipop sticks
Cake mixture
200 g of butter, melted
3 eggs
200 g of sugar
1 teaspoon of vanilla sugar
5 tablespoons of chocolate powder
350 g of PureSpelt half-white flour with 20% bruised grain
2 teaspoons of baking powder
3 dl of milk
75 g of chocolate flakes
Decoration
2-3 packets (each approx. 125 g) of cake glazing
Smarties, candy sprinkles, chocolate flakes, chopped nuts, etc. for decoration
1
Mix together all the ingredients for the cake mixture until smooth. Spread the cake mixture evenly on the baking paper lined baking tray.
Baking
Place the cake in the middle of an oven preheated to 200°C and bake for 20-25 minutes. Remove from the oven and allow to cool in the baking tray.
2
Cut the cake into 20 pieces each the size of an ice lollipop. Carefully insert a lollipop stick into each piece of cake. Melt the cake glazing in accordance with the instructions on the packet. Dip each lollipop cake into the glazing and ensure it is fully covered. Allow excess glazing to drip off and then decorate as desired. Lay the cake lollipops on baking paper to dry.
Suggestions
Mix 150 g of berries or finely chopped apricots or apple into cake mixture. Cut the cake into triangles or cut out in the shape of hearts. Serve the cake lollipops while still fresh.
Source:
IG Dinkel, Judith Gmür-Stalder