PureSpelt Anise Cookies
for approx. 80 cookies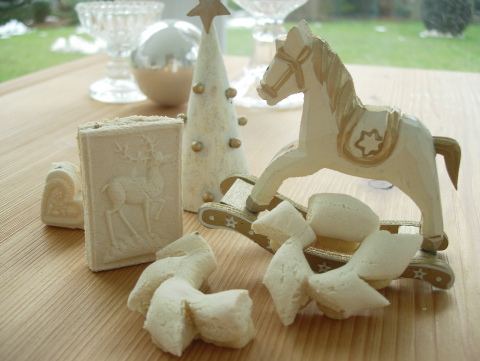 4 eggs, approx. 250 g
500 g icing sugar
1 pinch salt
1 tbsp kirsch
1-2 tbsp aniseed
500 g PureSpelt white flour
3 tbsp cornstarch
1
Using an electric mixer with a whisk attachment, mix the eggs, icing sugar until fluffy and pale in colour. Stir in the kirsch. Mix together the aniseed, flour and cornstarch, add to the egg mixture and stir to form a smooth, pliable dough.
2
Sprinkle a flat surface with flour and roll out the dough to 1 cm thick. Form the cookies using moulds, or roll the dough finger-thick, cut into pieces and score and bend them in the shape of "Chräbeli" (see photo). Place the cookies on a greased baking tray. Depending on the size and shape, allow them to dry for 1/2-1 day.
Baking
Bake for 15-20 minutes in the middle of an oven preheated to 160°C, leaving the oven door slightly open. Remove from the oven and let cool on a cooling rack.
Suggestion
PureSpelt Anise Cookies can be stored in a cool dry place for up to 3-4 weeks.
Source:
IG Dinkel, Judith Gmür-Stalder