PureSpelt biscuit treats (Läckerli), wafer thin
for approx. 80 biscuits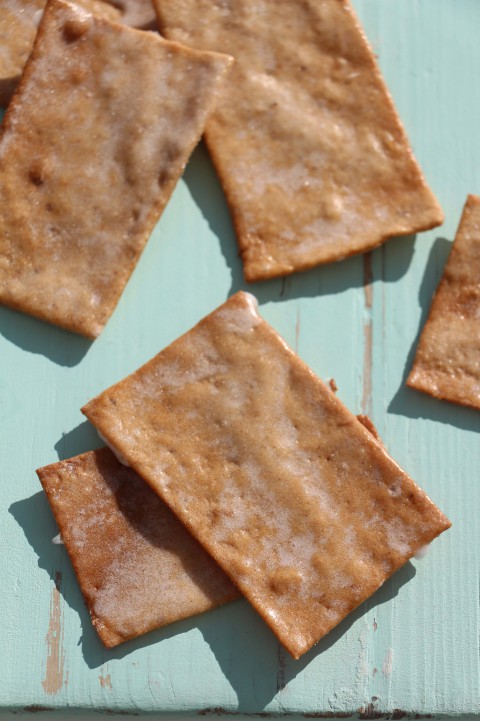 100 g of honey
75 g of sugar
2 teaspoons of gingerbread spices
200 g of PureSpelt brown flour
½ lemon, grated peel
¼ teaspoon of ammonium carbonate (salt of Hartshorn)
3-4 tablespoons of water
Glazing
100 g of icing sugar
3-4 tablespoons of lemon juice
1
Warm the honey, sugar and gingerbread spices in a saucepan. Mix together the flour, grated lemon peel and the leavening agent ammonium carbonate. Add the honey mixture and the water and form into a dough. Wrap the dough in cling film and leave in the refrigerator for 1-2 days.
2
Split the dough into portions and roll out each portion on a lightly floured surface until it forms a square approximately 1-2 mm thick. Cut the dough squares into smaller biscuit-sized squares (Läckerli) and lay them on a baking tray lined with baking paper. Place the tray in an oven pre-heated to 170°C and bake for 8-10 minutes until the biscuits are a light brown and crispy.
3
Glazing: Mix together the icing sugar and lemon juice until it forms a smooth paste.
4
Spread the glazing on the biscuits while they are still warm and allow to dry.
Suggestions
Stored in a cool dry place, the biscuits (Läckerli) can be kept for 1-2 months. Instead of grated lemon peel, use grated orange peel. Instead of using lemon juice for the glazing, use the same quantity of Kirsch licquor. Instead of using gingerbread spices, use cinnamon in the dough. Ammonium carbonate (Triebsalz) can be purchased at drugstores or non-dispensing chemists (Drogerien).
Source:
IG Dinkel, Judith Gmür-Stalder