PureSpelt "Magenbrot" (gingerbread)
for approx. 90 slices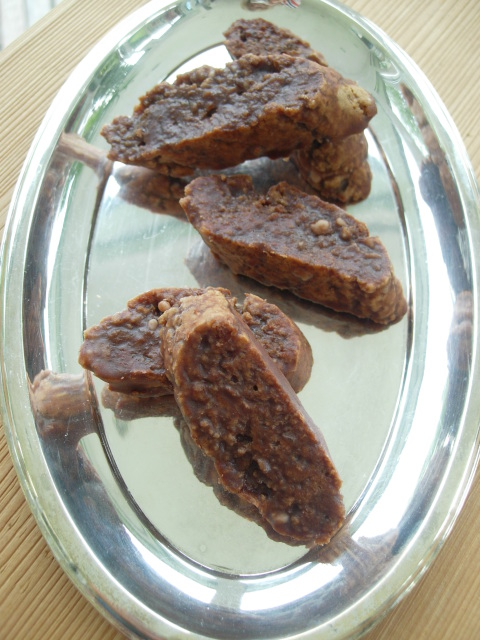 Dough
200 g of honey
200 g of sugar
1 1/4 dl of milk
1 packet of baking soda (5 g) (natron)
500 g of PureSpelt whole grain flour
1 teaspoon of cocoa powder
2 teaspoon of gingerbread spices
2 tablespoon of candied orange peel, finely chopped
2 tablespoon of candied lemon peel, finely chopped
Glazing
1.5 dl of water
100 g of dark chocolate, chopped
3 tablespoon of butter
1 tablespoon of cocoa powder
2 tablespoons of chocolate powder
275 g icing sugar
1
Dough: Warm the honey and the sugar in a saucepan, do not allow to boil. Add the milk and then dissolve the baking soda (natron) in the liquid.
2
Mix together the PureSpelt flour, cocoa powder, spices, candied orange and lemon peel. Pour on the honey milk mixture. Knead into a dough, wrap up well and refrigerate over night.
3
Cut the dough to make 6-8 rolls each of 1 1/2-2 cm diameter, line a baking tray with baking paper and lay the rolls on the tray with sufficient space between them.
Baking
Bake for 15-20 minutes in the middle of an oven preheated to 180°C. Remove from the oven and after allowing to cool completely, cut diagonally into slices about 1 1/2 cm wide.
4
To make the glazing, boil the water and then remove the saucepan from the heat. Melt in the chocolate and the butter. Stir in the chocolate powder and the icing sugar.
5
Place 1/3 of the "Magenbrot" slices in a bowl with 1/3 of the glazing and carefully turn the slices until they are all evenly covered with the glazing. Lay the glazed "Magenbrot" slices on a grid and allow them to dry. Carry out the same procedure with the remaining slices and glazing.
Source:
IG Dinkel, Judith Gmür-Stalder