PureSpelt chocolate cookies
for approx. 35 cookies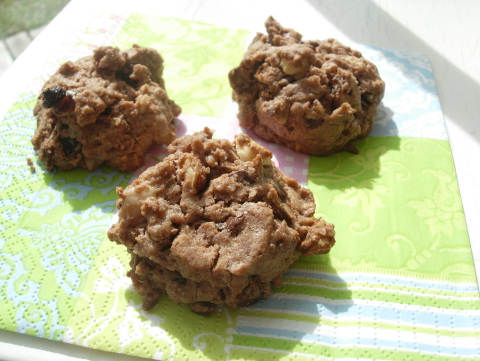 125 g of butter, soft
100 g of raw sugar
1 pinch of salt
1 teaspoon of vanilla sugar
2 eggs
250 g of PureSpelt white flour
1 teaspoon of baking powder
2 tablespoon of cacao powder
75 g of dark chocolate, chopped
75 g of milk chocolate, chopped
75 g raisins
100 g hassle nuts, roasted, chopped
1
Stir the butter until peaks are formed. Add the sugar, salt and vanilla sugar, continue to stir. Add the eggs and stir the mixture until it lightens in colour. Mix together the PureSpelt flour, the baking powder and the cocao powder, add to the other ingredients and fold in to form a dough.
2
Use a spoon to cut out walnut sized pieces of dough and place them sufficiently well spaced on a baking tray covered with baking paper.
Baking
Bake for 10-13 minutes in the middle of an oven preheated to 180°C.
Suggestions
The cookies can be stored in a cool dry place for up to 2-3 weeks. Before serving, slightly warm the PureSpelt chocolate cookies.
Source:
IG Dinkel, Judith Gmür-Stalder